Lucknow: Akhilesh Yadav vacates government bungalow after Supreme Court order
Politics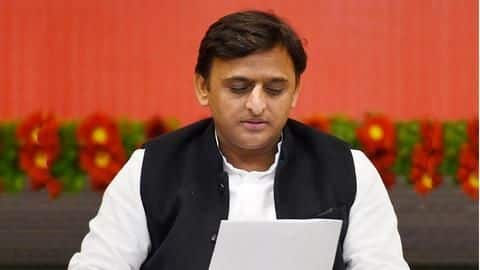 Samajwadi Party President Akhilesh Yadav has handed over the keys of the official bungalow allotted to him on Vikramaditya Marg in Lucknow to the Uttar Pradesh estate department.
The move comes after the Supreme Court on May 7 observed that former Uttar Pradesh Chief Ministers cannot retain government accommodation after demitting office.
The estate department had issued notices to six former Chief Ministers.
Narayan Dutt Tiwari
Only ex-CM ND Tiwari has to vacate bungalow now
Akhilesh Yadav handed over the keys of the government bungalow allotted to him to the estate department last night.
Now, only former CM Narayan Dutt Tiwari has to vacate his bungalow and hand over the keys.
Ujjwala Tiwari, the wife of Tiwari, has sought more time from the estate department, pleading that her husband was in Delhi in the "last stages" of his life.
Information
The estate department issued notices to six former CMs
The estate department had issued notices to six former chief ministers - Narayan Dutt Tiwari, Mulayam Singh Yadav, Kalyan Singh, Mayawati, Rajnath Singh, and Akhilesh Yadav - to vacate their official bungalows in compliance with the SC order.
Viral Clips
Video clips of Yadav's damaged bungalow circulating on social media
Meanwhile, video clips showing that Akhilesh Yadav's official bungalow was damaged have gone viral on social media.
Samajwadi Party said the video-clips were aimed at tarnishing Yadav's image as his popularity was continuously growing after the party's success in recent by-polls.
SP spokesperson, Sunil Singh Sajan, questioned why bungalows occupied by Rajnath Singh and Kalyan Singh were not shown after they vacated them.
Quote
Estate department to conduct inspection of vacated bungalows
"We will check our inventory as to what things were provided by us, and what works were done by us. If shortcomings are detected and damages done intentionally are found, we will serve a notice to the occupant", estate department official Yogesh Kumar Shukla said.