BJP-MLA's advice to women: Produce 'sanskaari' kids or stay infertile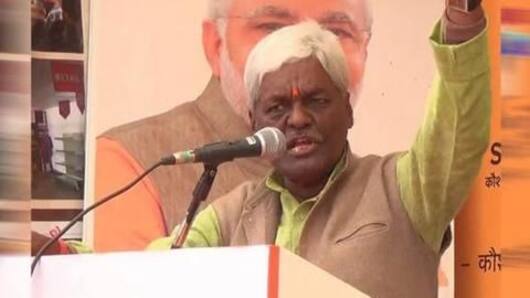 Bharatiya Janata Party lawmaker from Madhya Pradesh, Pannalal Shakya on Wednesday said women should remain infertile if they can't produce kids with 'sanskaar'.
Speaking at a public rally in Guna, Shakya asked women to follow the example of Kaushalya who had given birth to Lord Rama.
He made these peculiar remarks while criticizing Congress President Rahul Gandhi.
In context
Produce 'sanskaari' kids or stay infertile: BJP MLA
Pannalal Shakya's peculiar advice to women
"Congress came up with the slogan garibi hatao but instead wiped out the poor. There are women who give birth to such leaders. Women should rather remain infertile than produce kids who are not sanskari and who deform society," said Pannalal Shakya.
The past
Earlier, Shakya blamed girls' boyfriends on harassment
This is not the first time Shakya has given advice to women. Earlier, he questioned girls who made boyfriends and blamed their relationships for atrocities against them.
On March 25, the 57-year-old lawmaker made his hatred for 'western culture' quite obvious when he said, "Why do girls have boyfriends? When girls don't have boyfriends, there will be no harassment."
Love Politics news?
Stay updated with the latest happenings.
Notify Me
Details
Shakya had even questioned Virat Kohli's 'patriotism'
After star Indian cricketer Virat Kohli married actress Anushka Sharma in Italy last year, Shakya had questioned his decision.
He had said if Lord Rama, Yudhishthir and others got married in India, why couldn't Kohli.
"He (Kohli) earned fame and money in India but chose to marry outside... it's not patriotism," Shakya had said at a 'Skill India Centre' last year.