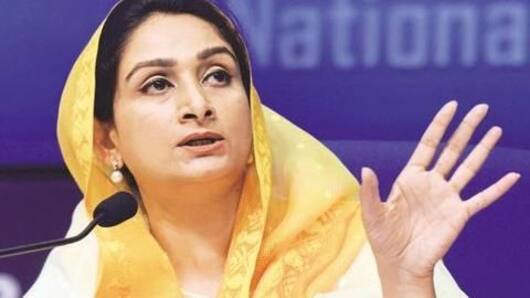 Punjab's drug-test rule should begin with Rahul Gandhi: Harsimrat Kaur
A controversy has broken out in the political circles of Punjab after a fresh decision by the government mandating drug tests for all employees.
Before implementing such an order, the chief of the Congress party, which is ruling the state, should himself undergo one, Union Minister Harsimrat Kaur said.
It is "nothing more than a gimmick to deflect people's attention" from Congress' failure, she added.
Harsimrat Kaur talks to ANI
All those leaders including those who called 70% Punjabis 'Nashedis' should undergo the dope test first: Harsimrat Kaur Badal,Union Minister on Punjab CM announces annual dope test for Govt officials pic.twitter.com/G41cENxOr8

— ANI (@ANI) July 5, 2018
What is this 'mandatory drug test' all about?
Continuing the fight against drugs, Punjab will make all government employees undergo mandatory dope tests, CM Amarinder Singh announced yesterday.
These tests will be held apart from the annual medical check, and especially before promotions.
This will impact about 3.5L people.
Such tests are already mandatory for recruitment of constables and sub-inspectors, who are analyzed for drugs like morphine, amphetamine, marijuana and propoxyphene.
Love Politics news?
Stay updated with the latest happenings.
Yes, notify me
Singh also recommended death penalty for certain first-time offenders
Singh also wrote to the home ministry, formally communicating his Cabinet's recommendation to make even first-time drug smuggling punishable by death.
This will need an amendment to the Narcotic Drugs and Psychotropic Substances (NDPS) Act.
Currently, NDPS provides for death penalty only in second instances of certain crimes, but this allows criminals to get away at least once, Singh said.
Everyone, including Singh, should get tested: AAP MLA lauds move
Some have lauded Singh's decision, like AAP MLA Aman Arora, who underwent a drug test today to set an example.
"Youngsters of Punjab have lost everything due to police, leaders and drug mafia. Be it Singh, Sukhbir Badal or Bikram Majithia, everyone should get it done," he said.
Housing Minister Tript Rajinder Bajwa also offered to undergo the test, but was denied permission due to health issues.
Considering Punjab's situation, it needs an urgent solution
Punjab's drug problem is rampant. According to the Tribune, in June itself, at least 23 people died due to drugs.
One estimate says there's one addict in more than two-thirds of Punjab's households.
Heroin is now home-delivered like food, and it is extremely easy to establish contact with dealers.
Though official data is lacking, police are known to use their influence to make a cut for themselves.
Kaur takes on Gandhi for saying '70% Punjabis addicted'
But Kaur isn't satisfied. Singh and Congress have completely failed to eliminate drugs from Punjab, she said.
In fact, the problem had become more rampant since the party came to power 1.5 years ago, she added.
The new move is "very good," she said, but "before government employees, Gandhi, who came to take political mileage and declared 70% of Punjabis 'druggies,' should undergo one."