Hearing only harsh language these days, Sushma Swaraj tweets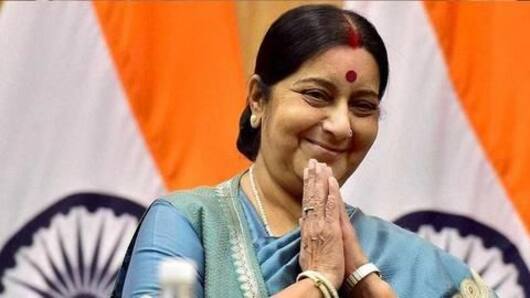 On Tuesday, Sushma Swaraj wrote on Twitter the External Affairs Minister was only listening to harsh language these days, a comment which shows the viciousness of trolls.
A woman asked Swaraj for help as she was stranded at Bali airport after she left her passport on the plane.
But rather than speaking nicely, the woman chose a rude approach, and it was called out.
In context
Sushma Swaraj says she's only listening harsh words
The incident
Woman stranded in Indonesia chose to speak rudely with Swaraj
After being stopped by Indonesian immigration officials, the user @sanchita_singh asked Swaraj what she had done in the last 24 hours to facilitate her India return.
Swaraj responded politely, addressing the user as 'Beta', and said concerned officials are on it.
Calling out her rude behavior, another Twitter advised Sanchita to exercise patience, to which Swaraj replied she only heard harsh language these days.
Don't feel bad, EAM tells worried Twitter user
Don't feel bad. EAM is listening to only harsh language these days. https://t.co/x2WY6p20AI

— Sushma Swaraj (@SushmaSwaraj) July 10, 2018
Love Politics news?
Stay updated with the latest happenings.
Notify Me
The beginning
Recently, trolls unleashed their ugly side on Sushma Swaraj
Sushma Swaraj received hate tweets recently after the Lucknow passport case. The trolls assumed Swaraj made sure the inter-faith couple's passport was delivered swiftly, to appease Muslims.
Accusations of wrongfully treating the passport officer Vikas Mishra also came her way.
Notably, Swaraj was out of India during the controversy and didn't know what happened. But trolls spewed venom against her, nevertheless.
The statistics
Notably, Sushma Swaraj is word's most followed female-leader on Twitter
Communication firm Burson Cohn & Wolfe (BCW) conducted a study on world leaders on social media and concluded Sushma Swaraj is the most followed female world leader on Twitter with more than 10 million followers.
Considering Swaraj's popularity, the trolls' venom against her speaks volumes about their character and definitely doesn't paint a good picture of how we Indians treat our leaders.