'Udd Gayi Vikas Ki Chidiya': Congress's T-shirts are a hit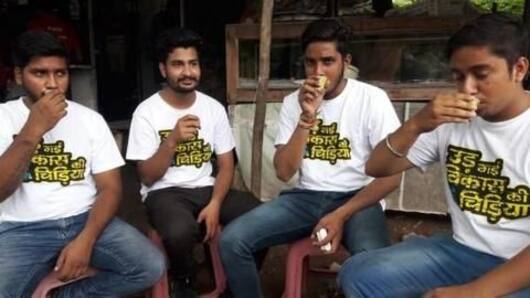 With political mud-slinging becoming pretty mainstream, Indian National Congress has devised a new plan to poke fun at Bharatiya Janata Party. The idea is both creative and sarcastic.
The grand old party has released 1 lakh T-shirts that have the slogan "Udd Gayi Vikas Ki Chidiya" imprinted on them, in a bid to take jibe at BJP's development model, India Today reported.
In context
Congress's T-shirts make fun of BJP's 'vikas-model'
Details
Congress workers don T-shirts, visit eateries, begin conversations
The new T-shirts, which are obviously attention-seeking, are being worn by Congress's workers in Chhattisgarh, which goes into polls later this year.
Donning these tees, the workers visit tea-stalls, paan-shops and eateries. The T-shirt serves as a conversation starter.
On its part, the BJP is obviously displeased with them and is now looking for a way to counter Congress.
Looking back
BJP's 'vikas-model' got it votes in 2014, but what now?
Led by Narendra Modi, the BJP moulded its 2014 campaign around the slogan 'Sabka Haath, Sabka Vikas'. The slogan combined with PM's speeches catapulted BJP to a historic win.
But with the elections next year, the slogan might not do the task. A major anti-incumbency 'wave' faces the Central government and the talks of a united opposition may derail its dreams of 2019.
Love Politics news?
Stay updated with the latest happenings.
Notify Me
What he said
Despite humiliating defeats in by-polls, Amit Shah confident of 2019
The BJP may have performed poorly at recently held by-polls, but party president Amit Shah is confident that his party will get more seats than 2014, next year.
"There is no anti-incumbency," Shah said earlier. He added the party has enough time to prepare for next year.
Meanwhile, Shah has already kicked off election campaigning.