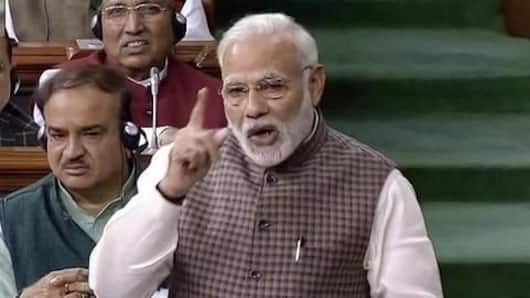 #NoConfidenceMotion: PM assures development, welfare of people of Andhra Pradesh
Prime Minister Narendra Modi assured the people of Andhra Pradesh that they will not be left behind and the government will ensure their welfare and development.
During the no-confidence motion moved by the Telugu Desam Party (TDP) yesterday, a former ally by of the BJP, Modi said the government stands with the people of Andhra Pradesh and their aspirations.
'We Want Justice': TDP MPs kept shouting during Modi's speech
During Modi's entire speech, TDP MPs kept shouting "we want justice".
The PM blamed the Congress for the division of Andhra Pradesh in a manner which left the people unhappy.
He said when the TDP decided to pull out of NDA, he had warned its leader N Chandrababu Naidu that his party was getting entangled in a race of one-upmanship with the YSR Congress.
Modi cites examples of prosperous states made during Vajpayee's regime
NDA government, Modi said, is "committed" towards developing Andhra Pradesh and Telangana. He said Atal Bihari Vajpayee government had created Uttarakhand, Chhattisgarh, and Jharkhand. "It was done peacefully. These states are prospering. The Congress divided Andhra Pradesh and their conduct then was shameful," he said.
Love Politics news?
Stay updated with the latest happenings.
Yes, notify me
TDP MP calls AP division 'undemocratic and unscientific'
TDP MP Jayadev Galla initiated the debate on the first no-confidence motion against the Modi government in four years.
Galla ended his speech terming the division of Andhra Pradesh "undemocratic and unscientific".
The Andhra Pradesh party had pulled out of the Modi government and the NDA earlier this year after the latter denied its demand of special category status to the state.