Don't grow money: Kumaraswamy on flak about delaying funds' allocation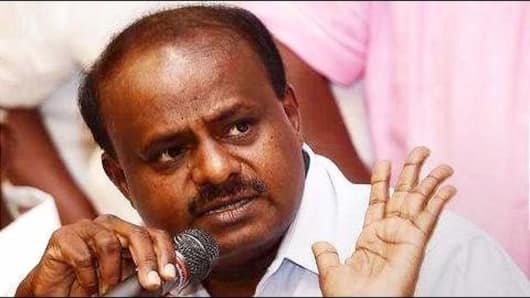 Karnataka Chief Minister HD Kumaraswamy, on Thursday, said he doesn't grow money on trees, while responding to critics who accused him of delaying funds allocation.
The JD(S) minister was in Bengaluru to address a function on World Tribal Day. He said detractors told he was not allocating funds for loan waivers.
"I don't grow money on trees to distribute funds," he said.
In context
Kumaraswamy says he doesn't grow money on trees
The defense
Defending himself, Kumaraswamy asked people to stay patient
Kumaraswamy went on to say a certain process needed to be followed. He said he needed to take officials into confidence before allocating funds.
"Despite these constraints, I have to convince them to release the money," the CM said.
Further, he asked everyone to remain patient. "I found ways to allocate money for Rs. 49,000 crore mega farm loan waiver," Kumaraswamy added.
Statement
Kumaraswamy also said he didn't reduce fund allocation
Kumaraswamy refuted the rumors that he might reduce the money allocation for the Shaadi Bhagya scheme. This scheme was started by the Congress.
"Be it Shaadi Bhaagya or any other scheme there hasn't been any reduction in allocation," Kumaraswamy clarified.
Notably, after failing to get a majority, the Congress-JD(S) coalition formed the government in Karnataka in May.
Love Politics news?
Stay updated with the latest happenings.
Notify Me
Details
Meanwhile, Kumaraswamy spent Rs. 42L on his swearing-in ceremony
The CM may claim he has constraints, but he didn't think much before spending Rs. 42 lakh of taxpayers' money on his swearing-in ceremony.
A report suggested that the guests were lodged in two five-star hotels - Taj West End and Shangri La, and Rs. 4.3 lakh spent on buffet at the Vidhana Soudha Banquet Hall.
But money doesn't grow on trees, right?