UP: After BJP-minister garlands Ambedkar-statue, Dalit-lawyers 'purify' it with gangajal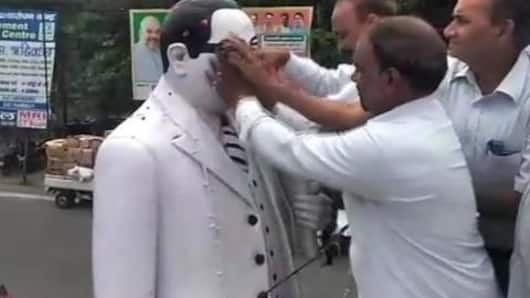 The Ambedkar statue placed outside the district court in Meerut, Uttar Pradesh, was 'purified' by Dalit lawyers on Friday after the BJP state general secretary Sunil Bansal garlanded it.
The lawyers poured 'gangajal' and milk on the statue and accused the BJP-RSS of playing dual strategy which harmed Dalits.
Here's more on it.
In context
UP: Dalit-lawyers 'purify' Ambedkar statue with gangajal
The statement
BJP behind attacks on Dalits, says one lawyer
Speaking about the incident, lawyer Praveen Bharti said they opposed BJP-RSS's dual strategy. He claimed they 'engineered' attacks on Dalits on one hand, and garlanded 'our leader to promote pro-Dalit image'.
He alleged the BJP was behind the Saharanpur clashes where many Dalits were injured.
On the April 2 violence, he said, "200 Dalits were put behind bars, including dozens of children."
BJP leader refuted the allegations and said they were pro-Dalit
"We are building an India that Ambedkar, who is a national icon always dreamt of. It is the opposition parties who have been trying to tarnish our image as an anti-Dalit party. They cannot handle the popularity which we enjoy," said state spokesman Chandra Mohan.
Love Politics news?
Stay updated with the latest happenings.
Notify Me
The events
The politics of statue gained momentum this year
In various parts of the country, vandalizing of Ambedkar statues were reported earlier this year. The Dalit community saw this as an attack on them, and on many occasions, the BJP was targeted.
The saffron party, however, maintained they respected the Dalit icon, and would not let the miscreants go easily.
It seems statues will play an important role in 2019.