Reservation here to stay; mob lynching is a crime: Modi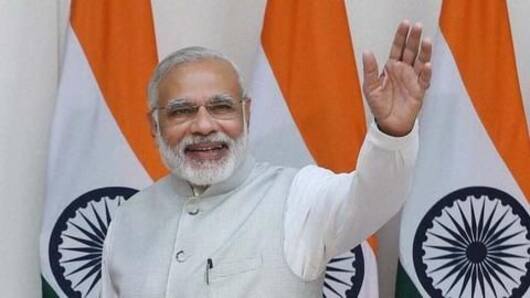 PM Narendra Modi has iterated that mob lynching is a crime, no matter the motive, and states need to take effective measures to check such incidents.
Addressing the issue of reservation, he said it is here to stay, adding the party is committed to Dr BR Ambedkar's dreams.
Modi addressed more burning issues, including GST, jobs, defaulters, and more in interviews to TOI and ANI.
In context
Modi talks reservation, mob lynching and more
Business
'Names of 2.6L shell companies and 3.09L directors struck off'
Modi said the government is committed to increasing the ease of doing business while clamping down on unscrupulous elements, a move that has been boosted by the increasing use of IT.
The names of 2.6L shell companies and 3.09L directors have been struck off, he elaborated. Similar steps have meant that compared to 1% of ITR files being taken up for scrutiny earlier, nowadays only 0.35% are checked.
Disinvestment
'More disinvestment under my government than in preceding 10 years'
"Since 2015, the government has realized over Rs. 2L crore from disinvestment of public sector enterprises. In 2017-18, the government realized a record Rs. 1L crore. This can be compared to the performance of the preceding 10 years during which the collection was Rs. 1.08L crore," he said.
Labor laws had been simplified too, with 56 registers/forms being replaced by just five.
Love Politics news?
Stay updated with the latest happenings.
Notify Me
'UPA's random sanctioning of loans led to high NPAs'
Talking about the rise in non-performing assets (NPAs), Modi blamed "random sanctioning of loans" under UPA-II. Figures were understated during the previous regime too, he added. To address this issue and the case of defaulters, the government brought the Insolvency and Bankruptcy Code (IBC) and Fugitive Economic Offenders Law.
Youths
Lakhs of jobs created, quality of education improved'
Modi dismissed criticism of insufficient jobs, asserting 45L jobs had been created in the formal sector during September'17-April'18, which had a "spinoff effect on job creation in the informal sector."
The government has assisted more than 15,000 startups, or "job multipliers."
To improve education, it has granted autonomy to colleges, allowed online degrees, and created 'Institutes of Eminence,' simultaneously opening "more IITs, IIMs, IISERs, NITs (and) IIITs."
Digital media
'Working on data protection laws, addressing fake news'
Addressing the matter of fake news, Modi said the government is working actively with stakeholders to check this, while asserting the "most effective solution lies in self-realization and self-restraint."
But digital media has pros too. "There was a time when one had to be 'eminent' to be heard. Digital media has changed that."
The Justice BN Srikrishna committee is now working to formulate laws on data protection and privacy.
Politics
'Will win more seats in 2019 than in 2014'
Modi slammed the Congress for alleging corruption in the Rafale deal, saying it is an "honest, transparent" government-to-government deal.
Calling the 'mahagathbandhan' "political adventurism," Modi said it cannot create "a gathbandhan of the electorate" and will fail.
About RaGa's hug in parliament, he said: "Naamdaars have their own rules. We are 'kaamdaars', we have no privilege."
For 2019, "my platform will be development, fast development, and development for all."
'Working to frame laws on mob lynching'
Modi reiterated the mob lynching is a crime. "Nobody can take laws into their own hands and commit violence." To address such crimes, the government had formed a high-level committee to make recommendations, he said. "We have also constituted a group of ministers to consider the committee's recommendations."
Reservation
'Reservation here to stay, no doubt about this'
Talking to ANI, Modi denied reports that caste-based reservations would end, adding reservations are here to stay.
"Our mantra is 'sabka saath, saka vikas,' and to achieve this, it is most important to protect the rights of the poor, downtrodden, marginalized, Dalits, Tribals and OBCs."
"Vested interest groups" are politicizing the issue right before elections, "and sections of the media will amplify this," he said.