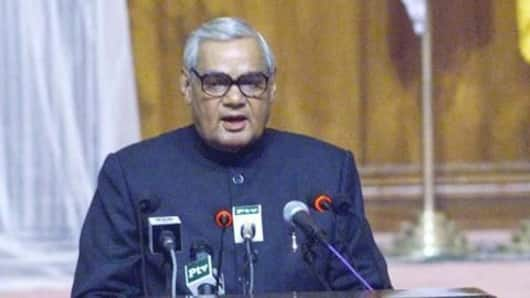 #RIPAtalJi: Without you, India won't ever be the same
Although former PM Atal Bihari Vajpayee breathed his last today, he has left India with a legacy that is nigh immortal.
From his participation in the freedom struggle to taking India to previously unthinkable levels of economic glory, Vajpayee is arguably the man who helped India find a foothold in a fast-changing, globalizing world.
Here, we pay a tribute and trace Vajpayee's biggest contributions.
Infrastructure engineered India's economic success; Vajpayee engineered infrastructure
Credits:
Infrastructure played a massive role in India's post-liberalization economic transformation, and Vajpayee was the architect of this success.
The much-talked about Golden Quadrilateral Highway connecting the four metropolises of Delhi, Mumbai, Kolkata, and Chennai was conceptualized by Vajpayee.
Yet, the rural didn't escape his vision, and his Pradhan Mantri Gramin Sadak Yojana scheme sought to provide all-weather road connectivity across India's villages.
The man who ushered in the nuclear era for India
Generations born into nuclear-capable India will hardly realize the struggles that led to nuclear capabilities.
Despite international pressure, Vajpayee gave the nod for the Pokhran nuclear tests days into his second term as PM in 1998.
Although India was bombarded with sanctions following the successful tests, Vajpayee steered India out of the storm and reshaped India-US relations on a more equal footing of power.
Love Politics news?
Stay updated with the latest happenings.
Yes, notify me
Vajpayee made a big impact on India's dismal education sector
Realizing the dismal state of education in India even decades after Independence, Vajpayee sought to reshape the education sector.
In 2001, under his regime, the Sarva Shiksha Abhiyan was launched, making education a fundamental right and a free facility for children aged 6-14 years.
The scheme brought about a drastic reduction in the number of school dropouts, with number of dropouts declining by 60%.
Vajpayee's New Telecom Policy enabled India's telecom revolution
Today, with Google and Facebook targeting their 'next billion' users in India, and with Jio trying to get more Indians online, internet connectivity and telecom penetration are taken for granted these days.
But, it was Vajpayee who spearheaded the telecom revolution in India through his New Telecom Policy that saw India witness telecom penetration grow from a meagre 3% to 70% in 12 years.
Vajpayee was instrumental in making India look towards the stars
India's space agency, ISRO, has seen a recent boost in stature, and is undertaking increasingly ambitious space missions with a manned spaceflight planned for 2022.
But, it all started with Chandrayaan-1, India's first lunar probe.
During his speech for India's 56th Independence Day in 2003, Vajpayee announced the mission and approved the funding required for it.
The rest, as they say, is history.
The Delhi Metro was approved and inaugurated by Vajpayee
Today, the Delhi Metro's massive network and impressive service is a beacon of urban mobility in India and Atal Bihari Vajpayee had a hand in that too.
Having approved plans for the Delhi Metro in 1998, on Christmas Eve, 2002, Vajpayee inaugurated the first line of the Delhi Metro, the Red Line, connecting Kashmere Gate to Seelampur.
Vajpayee's handling of Indo-Pak relations reflected statesmanship and grace
Vajpayee is also credited with launching the New Delhi-Lahore bus service in February 1999 which was aimed at improving ties with Pakistan.
However, in May 1999, the Kargil war broke out putting severe strains on India's relations with Pakistan.
Although India won the war, Vajpayee chose to be a graceful winner, and tried mending relations with Pakistan via invitations and summits afterwards.