Politics
RSS workers resign en masse to protest Chief's sacking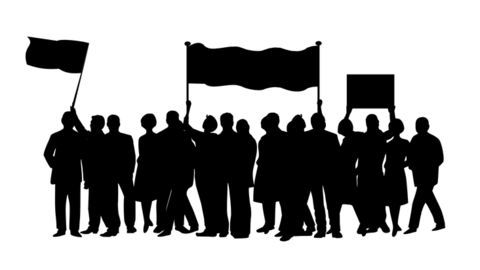 400 RSS volunteers resigned to protest against the unceremonious dismissal of Goa state's RSS Chief Subhash Velingkar.
The mass protest also saw resignations from district, sub-district and shakha heads that came through after a marathon meeting held at Panaji.
Ramdas Saraf, a south district RSS pramukh said that those who resigned wouldn't work for the RSS until Velingkar's sacking is overturned.
In context:
RSS and BJP's major face-off in Goa
Background

What's the crux of the protest?
The conflict between Subhash Velingkar and the state government has been simmering since 2015 over grants to English medium schools.
Velingkar is critical of the language policy as it gives more significance to English over regional languages; he heads a regional language front that promotes Marathi and Konkani.
Along with some members of his organization, he showed black flags during Amit Shah's Goa visit.
Velingkar: Educationist and RSS Leader

Subhash Velingkar was appointed as Goa Vibhag Sanghachalak twenty years ago in 1996; he served in that capacity unopposed for two decades before being dismissed. He has vast experience in the education sector; he taught for 34 years and was a principal for 18 years.
Love Politics news?


Stay updated with the latest happenings.
Details

Velingkar's political aspirations
Mr. Velingkar warned the BJP of a poor performance in the next state elections and threatened to mentor another political party to ensure BJP's defeat.
Velingkar's public confrontation with the BJP led to his prompt dismissal.
Senior RSS leaders explained that Velingkar wanted to pursue political activities and a Sangh leader wasn't supposed to be either in the political or electoral arena.
Goa Chief Ministers under attack

Subhash Velingkar accused Manohar Parrikar and Laxmikant Parsekar, former and current Goa Chief Ministers of "betraying people's trust" by failing to implement regional languages as medium-of-instruction in schools. Parsekar however refused to comment and described it as RSS's "internal matter".
01 Sep 2016

RSS workers resign en masse to protest Chief's sacking
What

Conflicting stances to Velingkar's sacking
Velingkar's sympathizers believe that top leaders in the RSS and the BJP had conspired against him.
Veteran RSS leaders disapproved of his sacking and said, "RSS is a parent body. Goa BJP cannot dictate terms to the RSS."
Another RSS leader expressed a contrary view, explaining that Velingkar was not sacked but merely "relieved from the decorated post" so he could pursue politics.
Love Politics news?


Stay updated with the latest happenings.
03 Sep 2016

Velingkar floats parallel unit after being dismissed from RSS
Subhash Velingkar, who was dismissed as RSS Goa unit chief on Thursday, said he and his supporters would function independently by forming a separate RSS Goa prant, and will seek affiliation from the parent-body only after March 2017 elections.
He has received support from BJP's ally Shiv Sena.
He also blamed Union Ministers Manohar Parrikar and Nitin Gandkari for his removal from the Sangh.