Politics
Kejriwal sacks Social Welfare Minister over objectionable video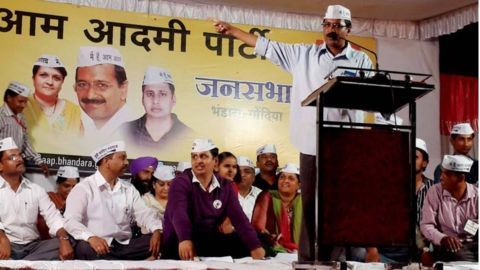 After a meeting at the CM's bungalow on Wednesday night, Kejriwal sacked Sandeep Kumar, the youngest minister in his cabinet.
A CD was delivered to the CM's home which allegedly showed Sandeep Kumar in "a compromising position with two women". It also had 11 photographs.
The video had been leaked earlier to some TV channels, which sent a copy to the CM for reactions.
In context:
Sex scandal rocks AAP
Who is Sandeep Kumar?

Sandeep Kumar served as minister of SC/ST Welfare and Women and Child Welfare in the Delhi government under CM Arvind Kejriwal. He is the youngest cabinet minister of the Aam Aadmi Party and represents Sultan Pur Majra in the Legislative Assembly of Delhi.
01 Sep 2016

Kejriwal sacks Social Welfare Minister over objectionable video
Love Politics news?


Stay updated with the latest happenings.
A meeting was held to decide on further action and also who would replace Sandeep Kumar as Minister for Women and Child Development, Language, and Scheduled Castes And Scheduled Tribes.
Manish Sisodia said, "Within half an hour of finding the CD, action was taken. The minister was removed. AAP is a party of ideals and has a zero tolerance policy towards corruption, scandal."
Reaction

What the Opposition has to say
The opposition called AAP's actions as "damage control" and BJP held protests outside Kejriwal's residence.
Delhi BJP Leader Vijendra Gupta said that Kejriwal must resign accepting moral responsibility for inducting a "morally corrupt MLA" in the cabinet.
Satish Upadhyay, President of BJP Delhi Unit alleged that Kejriwal had the video for the past 15-days but took action only after the news was made public.
Defense

Sandeep Kumar cries foul
After being sacked as Delhi cabinet minister over objectionable video and photographs, AAP MLA Sandeep Kumar denied the allegations on Thursday, claiming that the the video was fabricated.
He defended himself by saying that he was "paying a price for being a Dalit."
Comparing himself to Eklavya, he said, "when people from our community rise, some plot is hatched to destroy us."
AAP in trouble for third time

3 ministers have been sacked in 18 months from AAP's cabinet. Environment Minister Asim Ahmed Khan was removed from the cabinet in October 2015 over corruption allegations. In June 2015, Law Minister Jitendra Singh Tomar resigned after getting arrested on charges of possessing fake degrees.
Love Politics news?


Stay updated with the latest happenings.
04 Sep 2016

Woman in AAP video alleges rape, minister held
In a major development, a woman who featured in the objectionable video with AAP minister Sandeep Kumar has alleged that she was raped.
An FIR was registered in the Sultanpuri police station after which Sandeep Kumar was arrested.
The woman alleged that Kumar sedated and then assaulted her.
She claimed the incident happened 11 months ago and did not know it was filmed.
06 Sep 2016

NCW summons Ashutosh for defending rape accused
The National Commission for Women has summoned AAP leader Ashutosh over his controversial video, in which he defended AAP minister Sandeep Kumar, accused of rape.
Ashutosh lambasted NCW chief Lalitha Kumaramangalam saying the summons was politically motivated, calling Kumaramangalam a stooge of the ruling BJP.
The Delhi police have also registered a case against Ashutosh for defending Kumar's actions as "consensual".
08 Sep 2016

Ashutosh to meet NCW over controversial comments
AAP leader Ashutosh has agreed to meet NCW chief Lalitha Kumaramangalam over his controversial defence of a rape accused AAP minister.
He tweeted his decision to meet the NCW "I have decided to appear before NCW tomorrow as I have been asked by the panel, to present my views."
According to sources, he is scheduled to meet the NCW panel tomorrow.
09 Sep 2016

Ashutosh: NCW should clear pending issues before starting new ones
AAP leader Ashutosh, who was summoned by the NCW after he controversially defended a rape accused minister met the commission and asked them why no action was taken against PM Modi in the 2009 snooping case.
He said Modi's transgression was far worse than his.
Ashutosh alleged that the NCW promised to register a case against Modi and Amit Shah.
08 Nov 2016

AAP Minister gets bail in sex CD row
Former AAP Minister from Delhi, Sandeep Kumar has been granted bail by a Delhi Court in connection with the sex-CD case.
The court determined that Kumar has abused his position, but the CD could not prove that he actually raped the woman on tape.
Kumar was arrested on 3 September, days after being sacked from the Delhi Cabinet over the sex CD.