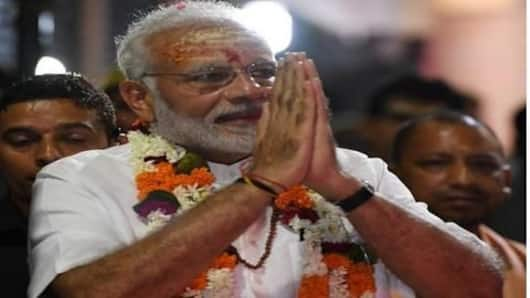 Modi gifts projects worth Rs. 500crore to his constituency, Varanasi
On Tuesday, Prime Minister Narendra Modi announced development projects worth Rs. 500 crore while addressing a meeting in Varanasi, his Lok Sabha constituency.
The projects mainly include improved transport facilities, a better railways, roadways and inland waterways connection of Varanasi to various parts of India.
Not just the infrastructure, Modi also announced that he plans to make Varanasi a world-class medical hub.
The development in Kashi is clearly visible: Modi
"Four years ago, we started the journey to develop Kashi and today, the difference of that journey is clearly visible. You are a witness to those times when Kashi was ignored, neglected and left at the mercy of gods in the previous regimes (Congress)," said PM Modi.
He further said that the development would be focused on rural areas as well.
The NaMo effect in Varanasi highlighted by NaMo himself!
चार वर्ष पहले जब काशीवासी, बदलाव के इस संकल्प को लेकर निकले थे, तब और आज में अंतर स्पष्ट दिखता है।

वरना आप तो उस व्यवस्था के गवाह रहे हैं जब हमारी काशी को भोले के भरोसे, अपने हाल पर छोड़ दिया गया था: PM

— PMO India (@PMOIndia) September 18, 2018
Love Politics news?
Stay updated with the latest happenings.
Yes, notify Me
The return gift to Varanasi
Modi announced the development projects a day after he celebrated his birthday in his constituency. He met schoolchildren, worshipped in Shiv mandir, watched a movie (loosely based on his life), and participated in social service activities. This project seems like a return gift to Varanasi.