Politics
Madhya Pradesh CM to launch Rs.10 thali for the poor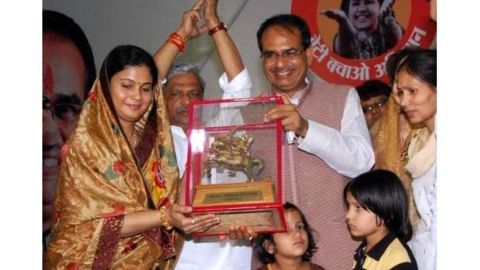 Following Jayalithaa and Navin Patnaik's footsteps, Madhya Pradesh CM Shivraj Singh Chouhan is planning to launch a subsidized meal program for the poor, comprising of a 'filling' thali for Rs.10.
He is expected to make a formal announcement on September 25, which is the birth anniversary of Pandit Deendayal Upadhyay.
It is supposed to be a part of the strategy for 2018 assembly elections.
In context:
Subsidized meal programs for the poor
19 Feb 2013

Amma's subsidy canteens
Amma Unavagam was the name given to the subsidization program run by the Government of Tamil Nadu.
Under the scheme, municipal corporations of the state ran subsidized canteens serving food at low prices.
The scheme was implemented through local women's Self-Help Groups (SHGs) and was meant for the benefit of daily-wage labourers and economically weaker sections and ran from 7 am till 10 pm.
01 Apr 2015

Navin Patnaik's 'Aahar Yojana'
Aahar Yojana is a food subsidisation program run by the Government of Odisha, with financial assistance from the Odisha Mining Corporation, to provide cheap lunch to the poor at Rs.5.
It was inaugurated on April 1, 2015 by Odisha CM Navin Patnaik on Utkal Divas.
The scheme has 100 Aahar centres covering all districts of Odisha, which targets more than 60,000 people per day.
Love Politics news?


Stay updated with the latest happenings.
06 Apr 2016

BJP's 'Maa Annapurna Yojna' in Gujarat
Ex-Gujarat CM Anandiben Patel launched National Food Security Act, which was re-named as 'Maa Annapurna Yojna'.
Its implementation began in Gujarat from 1 April 2016.
The Food Security Act, about which there was no mention in Patel's speech, was passed during the UPA regime.
Under this scheme, 3.82 crore people would get rice at Rs.3 per Kg and wheat at Rs.2 per Kg.
10 Sep 2016

Madhya Pradesh CM to launch Rs.10 thali for the poor
Details

Replicating the meal subsidy scheme
According to reports, the subsidized food idea was discussed by Chouhan at a closed door party meeting at the BJP Pachmarhi convention.
The thali will contain roti, dal, rice, sabzi and pickle and will be launched in Gwalior, Bhopal, Indore and Jabalpur initially.
The local municipal corporation, in collaboration with the food department of the administration, will be providing meals through various outlets.