Politics
Akhilesh calls Samajwadi Party infighting a 'political dispute'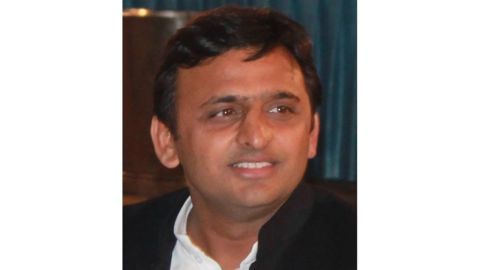 UP CM Akhilesh Yadav denied reports of a family rift, stating that the 'political' dispute was with his uncle, Shivpal Yadav.
SP Chief, Mulayam Singh on Tuesday named Shivpal Yadav, head of the party's unit in UP, after which Akhilesh stripped Shivpal of most of his portfolios.
Speculation is that Akhilesh might ask for dissolving the government and calling state polls earlier than scheduled.
In context:
SP feud: All's not well with the Yadavs
Dispute

Disagreement between the duo
Overlooking the claims of Shivpal, Mulayam Singh had appointed his son Akhilesh as CM in 2012.
Akhilesh and Shivpal disagreed on the state chief secretary appointment after Alok Ranjan's term ended on June 30. Shivpal named Deepak Singhal to the post, but Akhilesh removed him in just 2 months.
Amar Singh, whose involvement irks Akhilesh, became Rajya Sabha MP from SP on Shivpal's nomination.
Overturning SP's merger with Quami Ekta Dal

Shivpal Yadav proposed the merger of gangster-politician Mukhtar Ansari's QED with SP, which was publicly nixed by Akhilesh, to maintain a clean image before UP polls. QED, an eastern UP-based political party is headed by ex-SP MP Afzal Ansari, who is Mukhtar's elder brother.
Love Politics news?


Stay updated with the latest happenings.
Akhilesh's attack

Shunting out ministers
On Monday, Akhilesh removed two ministers, Gayatri Prasad Prajapati and Raj Kishore Singh, who faced corruption charges and were considered as Shivpal aides.
On Tuesday, he removed chief secretary Deepak Singhal, considered close to Shivpal, and appointed 1983 batch IAS officer Rahul Bhatnagar.
Later, he stripped Shivpal Yadav of all ministerial portfolios including PWD, irrigation, cooperative, flood-control and revenue and handed him social welfare.
Response

Shivpal Yadav strikes back
While commenting on Akhilesh's decision of removing him, Shivpal said it was the chief minister's right to select their cabinet ministers and give them responsibility.
He added that he will support whatever decision 'Netaji' will take and carry out the responsibilities assigned.
On the orders of Mulayam Singh, Shivpal had replaced Akhilesh on Tuesday as the new SP chief in Uttar Pradesh.
15 Sep 2016

Akhilesh calls Samajwadi Party infighting a 'political dispute'
Reaction

Opposition's response
BJP has dismissed it as "family drama", calling it an elaborate plan to project Akhilesh Yadav as the young rebel willing to take on even his father and uncle to uphold clean politics.
BSP chief Mayawati recently urged the EC to declare state elections early, arguing that the family feud within the ruling SP and "jungleraj" in UP would lead to chaos in governance.
Love Politics news?


Stay updated with the latest happenings.
16 Sep 2016

Mulayam Singh rejects Shivpal Yadav's resignation
On Thursday, Shivpal Yadav quit from Akhilesh Yadav's cabinet and as SP party president, two days after his appointment.
Shivpal's wife Sarla and son Aditya also gave resignation from their respective posts.
However, Mulayam has refused to accept the resignations.
The rift widened when Ram Gopal Yadav, party general secretary and Mulayam's cousin, said removing Akhilesh as party's UP president was an unintentional "mistake".
17 Sep 2016

Mulayam Singh in damage control mode for SP
SP supremo Mulayam Singh Yadav stated categorically that as along as he was alive, the Samajwadi Party would not split.
Dismissing reports of infighting within the party, Mulayam Singh admitted that certain mistakes were made in the party earlier, which snowballed to the current situation.
He clarified that all issues within the family were being resolved and that the party was united.
18 Sep 2016

Akhilesh reinstates Shivpal Yadav, appeals for calm
UP Chief Minister Akhilesh Yadav reinstated his uncle Shivpal Yadav to all key portfolios barring one, and promised to support him as the SP's state-unit president.
According to the compromise, Akhilesh will retain the position at the head of the state Parliamentary board, which makes decisions on candidates for elections.
Akhilesh also appealed to his supporters to maintain calm.
20 Sep 2016

Shivpal sacks pro-Akhilesh leaders, Amar Singh made National Secretary
Things continued to remain turbulent in the Samajwadi Party as Shivpal Yadav fired 7 pro-Akhilesh leaders from the party.
He defended the move saying they made "derogatory remarks" against party supremo Mulayam Singh Yadav.
Mulayam stirred further trouble, appointing controversial party figure Amar Singh as the party's new National General Secretary.
Several youth office bearers resigned in protest of Shivpal Yadav's move.
23 Sep 2016

Will back Akhilesh in 2017: Shivpal
Samajwadi Party's UP State President Shivpal Yadav clarified that he would back Akhilesh Yadav for the 2017 elections, despite his supporters chanting his name for the Chief Ministerial post.
He said he never "nursed ambitions of becoming chief minister" and would support Akhilesh, just as he had in 2012.
However, experts assess that the infighting within the party may have weakened its support base.
As the SP feud appeared to have been quelled, it emerged that Akhilesh Yadav extended support to seven youth leaders expelled by his uncle Shivpal Yadav.
Akhilesh even announced that he would campaign solo for the upcoming UP polls.
Meanwhile, in an attempt to calm tensions, Shivpal Yadav offered to resign as SP's UP state chief to "keep the party together."
23 Oct 2016

Akhilesh sacks Shivpal, 3 others for links to Amar Singh
At a legislature meeting called at the Chief Minister's residence, Akhilesh Yadav sacked his uncle Shivpal Yadav from his cabinet post along with three other ministers he was close to.
Narad Rai, Om Prakash and Shadab Fatima were also fired.
Akhilesh vowed to expel all party members close to Amar Singh.
Meanwhile, another SP member close to Akhilesh was fired for "anti-party' activities.