Rajasthan: Rahul Gandhi explains how selfie phones can improve tourism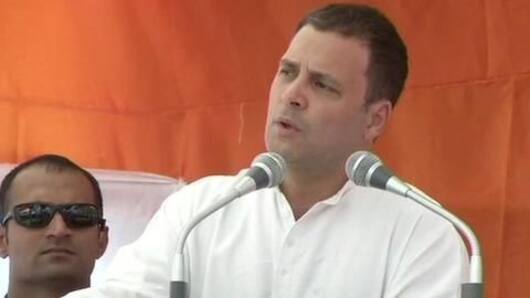 Addressing a rally in Dholpur, Rajasthan, on Tuesday Congress President Rahul Gandhi said he wanted people in China to use phones made in Rajasthan, and then visit the state which would improve tourism.
Further, attacking Narendra Modi government, Gandhi said the Prime Minister made tall promises of creating jobs but didn't keep them as he only wanted to make the rich, richer.
Here's more.
In context
How selfies can increase tourism, Rahul Gandhi explains
What he said
Not 'Made in China', RaGa wants 'Made in Dholpur'
Gandhi said if one turns their phones over, they will see 'Made in China' because he claimed the Modi government didn't care.
He said he wanted the youth of Rajasthan to make phones, which people in China would use.
"Whenever a youngster in China will click a selfie, everyone will see made in Dholpur at the back of the phone," he said.
Further, Gandhi explains how phones will boost tourism
"Then the people in China will wonder where is Dholpur. We will bring him in Dholpur, make him our tourist, earn via tourism and send him back. This is what we want," Gandhi went on to say.
Love Politics news?
Stay updated with the latest happenings.
Notify Me
Will put his money in your pocket, says Gandhi
I want that when someone takes a selfie in China, he would see the words 'Made in Dholpur' written at the back of the phone wonder where it is. Then we bring him to Rajasthan as a tourist, put his money in your pocket send him back by flight: Rahul Gandhi in Dholpur,Rajasthan pic.twitter.com/3mRLrpim6C

— ANI (@ANI) October 9, 2018
Details
Corruption is rampant, law and order in shreds, says RaGa
Gandhi then slammed PM Modi over a number of things. He said Lalit Modi gave Vasundhara Raje's (Rajasthan CM) son crores of rupees, and yet PM Modi says he is fighting corruption.
"Law and order situation in Rajasthan is abysmal," Gandhi said.
He added PM Modi said 'Beti Bachao, Beti Padhao' but a party MLA was accused of rape in UP. Most asked questions
Who is the Prime minister of India?
Who is the Prime minister of India?
Asked 2018-10-09 17:14:11 by Sasi Kumar Tangala
Answered by NewsBytes
Narendra Modi is the Prime Minister of India. He assumed office in 2014 and is serving as the 14th Prime Minister of India.