Madhya Pradesh: At road show, Amit Shah falls, remains unhurt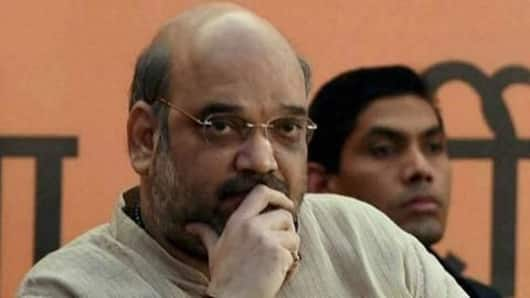 BJP President Amit Shah stumbled while he was getting down from a vehicle, a video of which has gone viral on social media. Shah was immediately given support by one of his bodyguards.
The incident happened at Tulsi park in Ashoknagar, MP.
Later, addressing a rally in Shivpuri district, Shah continued to fire salvos on Congress. The state goes to elections on November 28.
In context
Amit Shah falls during roadshow in Madhya Pradesh
The attack
Rahul baba is day dreaming, claims Shah
Earlier, Congress President Rahul Gandhi had claimed his party will form a government in all states which are up for polls: Madhya Pradesh, Rajasthan, Chhattisgarh, Telangana, and Mizoram.
On this Shah said, "Rahul baba is dreaming in the day that his party is going to form the government in Madhya Pradesh."
He added dreaming wasn't bad but one shouldn't build 'castles in the air'.
Love Politics news?
Stay updated with the latest happenings.
Notify Me
Attack on Congress
Congress can't be seen even with binoculars: Shah
Further ridiculing the grand old party, Shah said traces of Congress cannot be found even if one used binoculars.
"After 2014 (when the BJP-led National Democratic Alliance took over at the Centre), people have no room for the Congress and it has been wiped out from (most) states," Shah said.
He then asked Gandhi to tell who was Congress' face in Madhya Pradesh.
Raja, maharaja or industrialist, who is your leader, asks Shah
"Rahul Gandhi, who is your leader in Madhya Pradesh? Is it raja (Digvijay Singh), maharaja (Jyotiraditya Scindia) or a worn-out industrialist (Kamal Nath)?" Shah asked. Notably, BJP has been governing the state since 2003, and Shivraj Singh Chouhan has held the CM post since 2005.