Arun Jaitley to Congress: Who was Sardar Patel's father?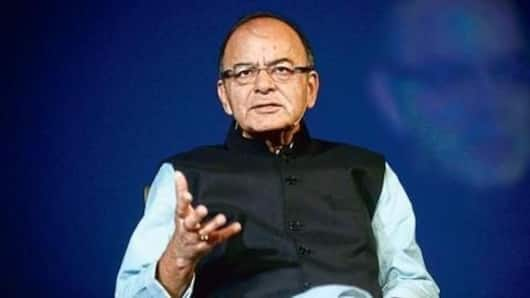 Launching fresh salvo at Congress over its leader's question 'Who is the father of Prime Minister Narendra Modi', Finance Minister in a Facebook post on Tuesday, asked who was the father of freedom fighter of Sardar Vallabhbhai Patel.
Jaitley slammed Congress' way of judging leaders and asked, "What is the name of Gandhiji's father; What is the name of Sardar Patel's wife?"
In context
Arun Jaitley asks 'Who is Sardar Patel's father?'
Context
Backstory: With question on PM Modi's father, leader sparked row
A video surfaced on social media which showed Congress leader Vilasrao Muttemwar asking a worrying question.
He said, "The world knows who the father of Rahul Gandhi was, who the grandmother of Rahul Gandhi was, but nobody knows the name of Modi's father."
Later, in a rally, PM Modi asked why was his father, who died 30 years ago, being dragged in politics now.
Post
For Congress, only surname matters: Jaitley
Jaitley said for Congress merit, talent, ability to inspire & lead aren't important virtues, it only focused on one's surname.
"The argument given was that if you represent the legacy of a well-known family, it is a political point in your favor," he wrote.
He termed this was a tragedy of Congress and lamented its impact on the nation.
Love Politics news?
Stay updated with the latest happenings.
Notify Me
Contributions of Sardar Patel are second to none: Jaitley
Sardar Patel's contribution was second to none. Besides being a frontline leader of the freedom movement, he, as the Deputy Prime Minister and Home Minister of India, negotiated the transfer of power with the British. He negotiated the integration of India with over 550 rulers.

— Arun Jaitley (@arunjaitley) November 27, 2018
Glamorizing a family
Jaitley explains how families have ruined things
Underlining the consequences of 'glamorizing one family', Jaitley wrote it was dangerous both for the country and the party whom they belonged to.
He said for the last 71 years the country has suffered due to three parties, one in Delhi (the Gandhi family) and two in Kashmir (the families of Omar Abdullah and Mehbooba Mufti).
"The consequences are obvious," he wrote.
Congress wanted to turn India to 'disciplined democracy'
When Panditji promoted his daughter as his successor, he laid the foundation of a dynastic democracy. When the daughter, in 1975, turned dictatorial, it became the party's ideology to convert India into a "disciplined democracy".

— Arun Jaitley (@arunjaitley) November 27, 2018
Challenge
India of 1971 and 2019 isn't the same: Jaitley
Further, Jaitley wrote India of 2019 is different from that of 1971.
"If the Congress Party wants the 2019 elections to be between Prime Minister Modi, who is the son of lesser-known parents and someone who is known only for his parentage rather than capacity, merit, and competence, the BJP would gladly accept the challenge," he wrote and added let this be the agenda.