#WinterSession: Triple Talaq on NDA's agenda; Rafale, CBI on opposition's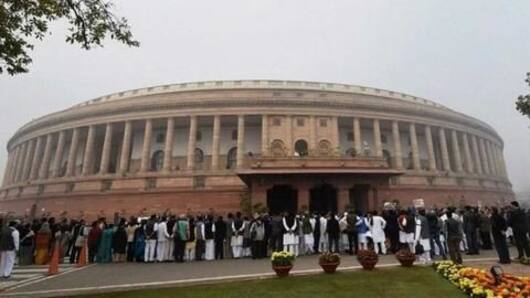 In the last winter session of the Parliament, before the country goes to polls in 2019, the NDA government is hoping to push the Triple Talaq Bill.
The Narendra Modi-led government is hoping to replace three ordinances- Triple Talaq, Companies Act Amendment and the Medical Council of India Act Amendment, will full-fledged laws.
The Opposition would attempt to corner the government over several issues.
In context
In winter-session, government could push for Triple Talaq
The session
Session will start with obituaries to Vajpayee, Ananth Kumar
The session will start on Monday with obituary references to former Prime Minister Atal Bihari Vajpayee and minister of Parliamentary Affairs Ananth Kumar.
It should be noted the session coincides with results of polls in five states- Mizoram, Telangana, Chhattisgarh, Rajasthan, and Madhya Pradesh.
But new Parliamentary Affairs minister Narendra Singh Tomar said it will have little effect on the winter session, reports HT.
Tomar hopes for a fruitful winter session
"I don't think there's any reason to think developments in states are going to decide the agenda or the fate of a Parliament session. All political parties also understand these things and there are several issues that need to be raised and discussed," Tomar said.
Love Politics news?
Stay updated with the latest happenings.
Notify Me
Details
What the government hopes to achieve
The Triple Talaq law, which has become a pet project of BJP, makes instant triple talaq illegal and a punitive offense.
The Companies Act Amendment ordinance changes certain provisions, like that related to penalties, in the Companies Act, 2013.
The Medical Council of India Act Amendment will ensure the body is suppressed for a year and a board of governors will perform the function.
Opposition
Opposition will talk about Rafale, MJ Akbar, CBI
While the government hopes to pass key bills, the Opposition has readied itself for an attack on the NDA.
Issues like Rafale, the strain between two top cops in CBI, charges of sexual misconduct on former BJP Minister MJ Akbar, and the autonomy of Reserve Bank Of India (RBI) will be raised by the Opposition in the floor of the House.