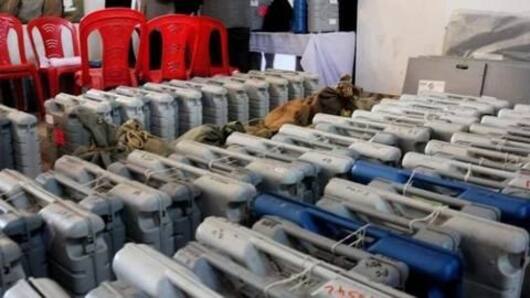 In MP, Congress workers guard EVM-strongroom fearing tampering by BJP
Ahead of the crucial results of elections in five states, Congress workers in Madhya Pradesh have taken it upon themselves to guard EVM strongroom in Vidisha.
The workers of the grand old party said they feared BJP could tamper the EVMs, hence the extra security. Apart from them, guards are also working round the clock.
The results will be declared on Tuesday.
Apart from security guards, Congress workers guard strongrooms
MP cast its vote for the new assembly on November 28, after which the EVMs were brought to Samrat Ashok Technological Institute (SATI) in Vidisha.
Congress candidate from Vidisha, Shashank Bhargav, said the Election Commission has allowed candidates to secure strong rooms.
"Although we trust officials, (we fear) they can also submit under pressure, so we have deployed our own security guards," he said.
Congress candidate says he doesn't trust Modi, Chouhan
Bhargav added they didn't trust Prime Minister Narendra Modi or Chief Minister Shivraj Singh Chouhan.
Similar thoughts were echoed by Congress worker Rajkumar who said Vidisha was a sensitive constituency and BJP 'can do anything'.
"We have been instructed to keep an eye on the whole thing so that BJP is not able to do anything illegal," he added.
Love Politics news?
Stay updated with the latest happenings.
Yes, notify me
Congress approached EC to speak about EVMs
Earlier, senior Congress leader Kamal Nath and Kapil Sibal visited Election Commission of India to flag their concerns related to EVM tampering.
A Congress delegation had also registered a complaint in MP Election Commission alleging tampering.
Notably, the Election Commission had admitted that in an EVM strongroom in Bhopal, CCTV cameras didn't work for more than an hour on November 30.
All eyes set on tomorrow
The results of assembly elections in Madhya Pradesh, Chhattisgarh, Rajasthan, Mizoram, and Telangana has kept the key players on their toes.
Exit polls suggested Congress will seize power from anti-incumbent Vasundhara Raje government in Rajasthan, whereas in MP and Chhattisgarh the battle will be close.
K Chandrasekhar Rao could return to power in Telangana and Congress might lose its last North-east bastion, Mizoram.