'Krishna' Tej Pratap's back to slay BJP with 'sudarshan chakra'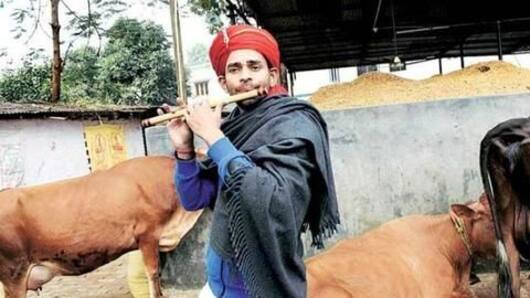 RJD leader Tej Pratap Yadav made a surprise appearance at the party's office in Patna, Bihar, on Sunday and said he was all pumped up to slay Bharatiya Janata Party with sudarshan chakra.
The son of Lalu Prasad Yadav announced his return to active politics after a hiatus of more than a month.
He had filed for divorce from wife Aishwarya Rai six months after the wedding.
In context
Tej Pratap Yadav is back for his 'opponents'
Historic references
In this 'Mahabharata', Tej is Krishna and Tejashwi is Arjuna
Tej identified the combine of BJP and RSS as the principal opponent in Bihar.
"The state will emerge as Kurukshetra in the 2019 Lok Sabha polls and our detractors will be slayed with the Sudarshan Chakra of the popular vote," he said.
When asked about younger brother Tejashwi, Tej said he was Arjuna, clarifying that he would take on the role of charioteer Lord Krishna.
Demand
But to fight BJP, Tej has demanded a new home
However, Tej needs a different house to take on BJP and he has asked the government to provide him one.
"Does Tejashwi not have a separate residence? Earlier also I didn't live at 10, Circular Road (the bungalow allotted to his mother as a former chief minister), I used to live elsewhere," he said.
He added he needs a new home to focus on the fight.
Love Politics news?
Stay updated with the latest happenings.
Notify Me
Family ties
Notably, Tej has hinted Yadavs are one happy family
Further, Tej added he wrote to Chief Minister Nitish Kumar about the same but is yet to receive a response.
About his family, Tej refuted speculations of an infighting. It was reported his family doesn't approve of his divorce decision.
But Tej said he has the blessings of his elders, and revealed he reconciled with mother, Rabri Devi, at a wedding.