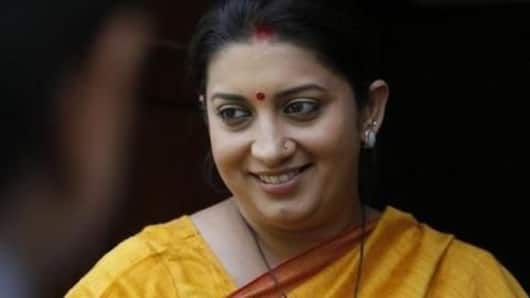 Defamation-duel in Delhi-HC: Smriti Irani gets relief, Sanjay Nirupam doesn't
The Delhi High Court on Wednesday gave relief to Union Minister Smriti Irani by quashing the summons issued against her in a defamation case filed by Congress Minister Sanjay Nirupam.
The court, however, did not give the same comfort to Nirupam and said the defamation case against him would continue.
Justice R K Gauba passed two separate verdicts on these leaders' plea.
Years ago, Nirupam allegedly passed derogatory remarks on Irani
The case dates back to 2012 when Nirupam allegedly made snide remarks against Irani on a television debate.
"You used to charge money to perform dance shows on television, and now you have become an election analyst," Nirupam had allegedly told Irani after Gujarat Assembly poll results.
In July this year, Irani told a court she wanted a trial as Nirupam used derogatory words.
Separately, Nirupam claimed Irani made unwelcoming remarks at him
After Irani's complaint, Nirupam was booked under IPC Section 500 (defamation) and 509 (uttering any word or making any gesture intended to insult the modesty of a woman).
However, things took a murky turn when Nirupam sent a notice to Irani, through his counsel, asking her to apologize for 'derogatory and scurrilous comments' remarks she made.
Irani, allegedly, made 'direct aspersions' on Nirupam's character.
Love Politics news?
Stay updated with the latest happenings.
Yes, notify me
Both leaders approached higher court, only one got good news
Earlier, the court suggested both the leaders to reach an amicable settlement outside the court.
On June 6, 2014, a trial court issued summons against Irani and she approached the HC to quash them.
Separately, Nirupam approached the HC against the magistrate's March 11, 2013 order which summoned him. He also wanted Irani's defamation complaint filed against him quashed.
Why did Smriti Irani and Sanjay Nirupam approach HC?
Asked 2018-12-19 16:31:16 by Rishika Mistry
Answered by NewsBytes
Smriti Irani and Sanjay Nirupam had filed defamation cases against each other and approached HC with a request that the cases should be quashed.
What did Sanjay Nirupam tell Smriti Irani?
Asked 2018-12-19 16:31:16 by Vihaan Das
Answered by NewsBytes
Sanjay Nirupam allegedly questioned Smriti Irani's knowledge of elections as she was a television actress before joining politics.
What did Smriti Irani say about case against Sanjay Nirupam?
Asked 2018-12-19 16:31:16 by Anika Gupta
Answered by NewsBytes
Smriti Irani said she doesn't want an apology and wants Sanjay Nirupam to be put on trial.
Who was the judge who delivered the verdict?
Asked 2018-12-19 16:31:16 by Muhammad Pillai
Answered by NewsBytes
The High Court judge who gave relief to Smriti Irani and not Sanjay Nirupam is Justice R K Gauba.