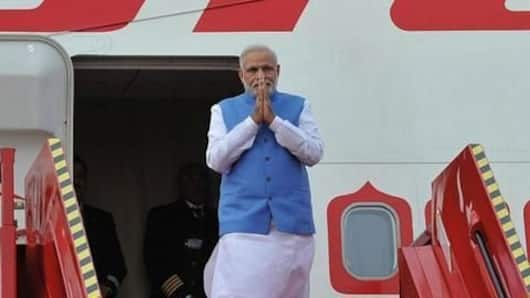 Government spent over Rs. 2,021cr on PM Modi's foreign trips
Since 2014, the government has spent more than Rs. 2,021 crore on Prime Minister Narendra Modi's foreign trips. The expenditure includes money spent on chartered flights, maintenance of aircraft and hotline facilities.
The details of the trips undertaken by PM Modi were shared by Minister of State for External Affairs, VK Singh.
Singh was answering a list of queries in the Rajya Sabha.
PM Modi's expenditure trump Dr. Manmohan Singh's by huge margin
Singh also revealed that foreign trips of PM Modi's predecessor, Dr. Manmohan Singh cost Rs. 1,346 crore.
The money spent on Dr. Singh's foreign travels took into account the period from 2009-10 to 2013-14.
It was revealed that PM Modi visited 55 countries in 48 foreign trips after taking office in May 2014.
He visited a few countries multiple times.
Here's the breakdown of money spent on chartered flights
Highlighting the breakdown of expenses, Singh revealed in 2014-15, Rs. 93.76 crore was spent on chartered flights. This cost became Rs. 117.89 crore in 2015-16 and Rs. 76.27 crore in 2017-18.
In 2018-19 till December 3, the cost of chartered flights has been Rs. 42.01 crore.
Singh did not reveal amount spent on hotline facilities during PM Modi's foreign visits in 2017-18 and 2018-19.
Love Politics news?
Stay updated with the latest happenings.
Yes, notify Me
The big question: Did these foreign trips help?
Singh said the foreign countries visited by PM Modi invested in India.
He claimed that from 2014 to 2017, FDI swelled from USD 30,930.5 million to USD 43,478.27 million.
The cumulative FDI inflows between 2014 and June 2018 stood at USD 136,077.75 million, Singh revealed.
To give a perspective, the combined FDI inflows from 2011 to 2014 was USD 81,843.71 million.