Dialogue can solve Ayodhya-issue, will lay brick: Farooq Abdullah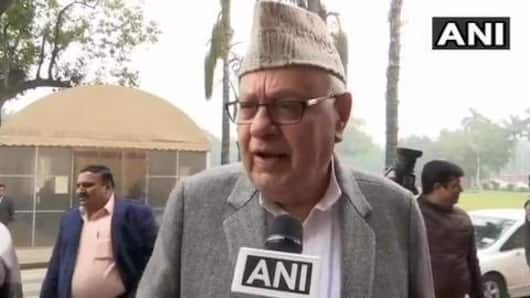 Veteran National Conference leader Farooq Abdullah said on Friday the Ayodhya dispute can be solved through dialogue while emphasizing Lord Ram doesn't just belong to Hindus.
His comments came on the day when the Supreme Court said the bench for the hearing the title dispute case will be constituted on January 10.
The decision was taken by CJI Ranjan Gogoi and Justice SK Kaul.
In context
Farooq Abdullah says dialogue could solve Ayodhya dispute
What he said
Abdullah thinks matter shouldn't have been taken to court
Abdullah said he was confident dialogue with people on both sides of spectrum could solve the matter, and it shouldn't have been taken to court.
"I am sure it can be resolved through dialogue. Lord Ram belongs to the whole world, not just Hindus," Abdullah said.
He added no one has, or should have, any enmity with Lord Ram.
Will go to lay a brick: Abdullah
"Koshish karni chahiye suljhane ki aur banane ki. Jis din ye ho jayega main bhi ek patthar lagane jaaonga (Attempts should be taken to solve the matter and build the temple. The day it happens I will also go to lay a brick)," said Abdullah.
Love Politics news?
Stay updated with the latest happenings.
Notify Me
Abdullah wants the issue to be solved soon
Farooq Abdullah on Ayodhya issue: Bhagwan Ram se kisi ko baer nahi hai na hona chahiye. Koshish karni chahiye suljhane ki aur banane ki. Jis din ye ho jayega main bhi ek patthar lagane jaaonga. Jaldi samadhaan hona chahiye https://t.co/eIBPpvpr8G

— ANI (@ANI) January 4, 2019
Context
A brief history of the sensitive case
The dispute has taken center stage of Indian politics for over 2 decades now.
Hindu groups believe the Babri Masjid was erected after demolishing a temple where Lord Ram took human form.
In December 1992, the Babri Masjid was attacked sparking nationwide riots.
In 2010, the Allahabad High Court divided the land equally among three parties: Ram Lalla, Sunni Waqf Board, and Nirmohi Akhada.
PIL rejected
Supreme Court also rejects PIL demanding speedy trial
Notably, the apex court also turned down a petition demanding a speedy trial of the title dispute.
Advocate Harinath Ram filed the PIL in view of 'inordinate delay' in the adjudication of the matter.
The PIL also took into consideration the sentiments of the nation and the 'danger of a public outburst which could engulf the country in flames of violence'.