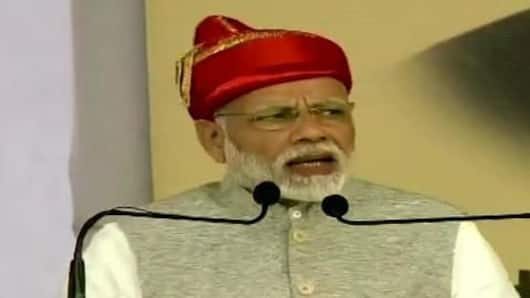 Was Rafale-deal stopped for Michel Mama: PM Modi asks Congress
PM Narendra Modi on Wednesday launched an attack on Congress and Gandhi family by mentioning Christian Michel, the middleman of AgustaWestland, and asked if the Rafale deal got delayed because of him.
Addressing a rally in Maharashtra's Solapur, PM Modi replied to the allegations of Congress President Rahul Gandhi and said the family should come clean.
His statements came after an explosive media report.
Backstory: Apparently, Michel was planning for another deal
India Today reported that a strategy paper was seized from Guido Haschke, another Agusta middleman.
The paper revealed that Michel and Haschke were working on a plan to promote Rafale's prime competitor Eurofighter before India. But India signed the deal with Dassault Aviation for 36 jets.
Notably, after Congress MPs flew paper planes in parliament, Arun Jaitley said, "I think these planes are being flown in the memory of Eurofighters."
BJP asked Congress questions after revelations
After the report, the ruling BJP didn't hold any punches and attacked Congress. And PM Modi did the same.
He said, "Was the deal stopped then because of Michel mama's 'saudebaazi' (deals)." Notably, the deal of 126 jets signed by UPA didn't materialize and the Congress has repeatedly quizzed why the number of jets was brought down.
But after the report, tables turned.
Love Politics news?
Stay updated with the latest happenings.
Yes, notify Me
"What is Congress relationship with Michel Mama?"
"Michel mama was lobbying for some other company. Congress leaders who are making noise now should explain to everyone - what is their relationship with Michel mama? Shouldn't they given an answer? Shouldn't the chowkidar ask them about it," PM Modi said.
This chowkidar won't sleep or get scared: PM Modi
Without taking names, PM Modi went on to say all the friends of 'commission takers' are trying to scare the chowkidar.
"But they are going to be disappointed because this chowkidar doesn't sleep or feel scared," he said. PM Modi added they could abuse him but this clean-up mission will continue.
He said the chowkidar had the blessings of the people.
What is the Rafale deal?
Asked 2019-01-09 17:40:40 by Ankita Jhadav
Answered by NewsBytes
As per the Rafale deal, signed between India and France, the latter has to give 36 fighter jets to the former.
What is Congress' stand on Rafale?
Asked 2019-01-09 17:40:40 by Surabhi Jhadav
Answered by NewsBytes
Congress has alleged corruption in the multi-crore deal and claimed Prime Minister Narendra Modi scripted a new deal to help Anil Ambani.
How is Christian Michel linked to Rafale deal?
Asked 2019-01-09 17:40:40 by Aditya Kapur
Answered by NewsBytes
A report claimed Christian Michel was promoting Eurofighter in front of India. But India and France signed an inter-governmental deal.
What did Prime Minister Narendra Modi say?
Asked 2019-01-09 17:40:40 by Charvi Balasubramanium
Answered by NewsBytes
Prime Minister Narendra Modi asked Congress to reveal its relationship with Christian Michel and tell why was the deal delayed.