Former Delhi CM Sheila Dikshit named as Delhi Congress chief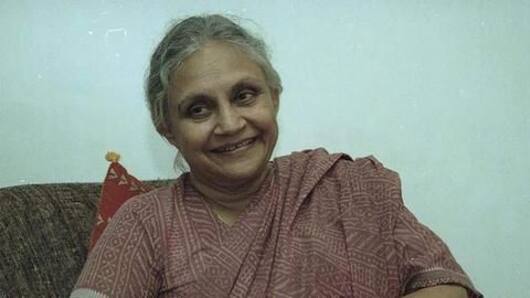 Former Delhi Chief Minister Sheila Dikshit has been chosen as the new chief of the Delhi Congress.
The 80-year-old Dikshit will take the reins from Ajay Maken, who resigned as the chief of the Delhi Congress last week.
The longest serving Chief Minister of Delhi, Dikshit, up until now had been on a break from active politics.
Here's more.
In context
Sheila Dikshit named as new Delhi Congress chief
Maken resignation
Ajay Maken had served as DPCC chief for three years
Maken had taken over as the chief of the Delhi Pradesh Congress Committee (DPCC) in 2015, soon after the Aam Aadmi Party (AAP) swept Delhi and took power.
However, in September last year, the veteran submitted his resignation citing severe orthopaedic ailments, but had been asked to continue is his post by Congress chief Rahul Gandhi.
On January 4, he resigned.
Maken has congratulated Dikshit over the appointment
"Congratulations to Sheila Dikshit for being appointed as the state Congress chief again. I got the chance to work and learn under her as parliamentary secretary and cabinet minister. I have full confidence that under her leadership, we will play the role of a formidable opposition," tweeted Maken.
Love Politics news?
Stay updated with the latest happenings.
Notify Me
Dikshit
Dikshit was the Delhi Chief Minister for 15 years
A Congress veteran, Dikshit had the distinction of being the longest serving Delhi Chief Minister in history, a post she held for 15 years from 1998 to 2013.
In 2013, the Congress was voted out of power in the assembly polls, which resulted in a hung assembly. Subsequently, AAP's Arvind Kejriwal became the new Chief Minister with "unconditional support" from the Congress.
Kejriwal had stepped down, but made a strong return
Interestingly, Kejriwal resigned just 49 days after coming into power citing his party's inability to table the Jan Lok Pal bill in the Delhi Assembly. Delhi was put under President's Rule till 2015, following which AAP won a resounding victory in Delhi, capturing 67/70 seats.
Tactics
Does Dikshit's appointment signal a change in Congress tactics?
While the Delhi Congress under Maken had been a "formidable foe" to the AAP government ruling the national capital, it is suspected that Dikshit's appointment might signal a change of tactics.
It has been reported that the Congress could seriously consider teaming up with Arvind Kejriwal and his party in its bid to defeat the BJP.