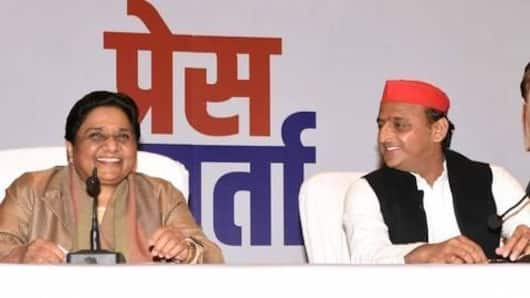 After SP joins hands with BSP, party member expresses displeasure
A day after Samajwadi Party President Akhilesh Yadav and Bahujan Samaj Party's Mayawati announced their grand alliance in an anticipated press conference in Lucknow, an MLA has expressed concern over them teaming up.
On Sunday, Hariom Yadav, SP MLA from Sirsaganj in Firozabad district expressed his disdain with the alliance and said Mayawati will have an upper hand in it.
Here's what happened.
"Till 'adyaksh ji' kneels": SP MLA isn't happy with alliance
Hariom was confident the SP-BSP alliance will not work in Firozabad. Further, he said the alliance will only work as long as Akhilesh agrees to everything Mayawati says and keeps 'kneeling' before her.
SP and BSP announced they will fight Lok Sabha elections together and distributed the 80 seats between each other.
They will contest on 38 seats each.
Cracks already?
SP MLA Hariom Yadav on SP-BSP alliance, yesterday: SP-BSP alliance will not work in Firozabad. It won't be successful here. Yeh gathbandhan tabhi tak chal sakta hai jab tak humare rashtriya adhyakshji Behenji ki haan mein haan milate rahenge aur ghutne tekte rahenge. pic.twitter.com/cvLLfagJcC

— ANI UP (@ANINewsUP) January 14, 2019
Love Politics news?
Stay updated with the latest happenings.
Yes, notify Me
Akhilesh had said Mayawati's insults won't be taken lightly
Notably, at the press conference, Akhilesh had said he would not tolerate insults hurled towards Mayawati by his party members. He said, "Any insult of her will be seen like mine."
Meanwhile, Mayawati too said the parties, which have governed UP alternatively for years, have decided to bury the hatchet.
She said the alliance was needed to stop BJP's 'divisive politics'.
BSP and SP team up, but leave Congress out
When Akhilesh was asked if he would support Mayawati's Prime Ministerial bid he said, "You know whom I will support," hinting he would.
The two parties kept Congress out of the alliance but the grand old party said it won't matter.
Congress President Rahul Gandhi claimed even without alliance the end result for BJP is the same and added his party will fight strongly.
Tejashwi Yadav welcomes alliance, says BJP will be washed out
Notably, Tejashwi Yadav, the leader of opposition in Bihar, welcomed the alliance. He met Mayawati on Sunday and later said BJP will be washed out in Bihar and UP.
He claimed his father, Lalu Prasad Yadav, supported a Bihar-type alliance of regional parties in UP to defeat BJP.
However, Senior RJD leader Raghuvansh Prasad Singh opined leaving out Congress wasn't a wise decision.
Who is Hariom Yadav?
Asked 2019-01-14 14:43:35 by Sanvi Mehta
Answered by NewsBytes
Hariom Yadav is a Samajwadi Party MLA from Sirsaganj in Firozabad district, Uttar Pradesh.
What did Hariom Yadav say?
Asked 2019-01-14 14:43:35 by Vibhore Mistry
Answered by NewsBytes
Hariom Yadav said the alliance between SP and BSP will work till Akhilesh Yadav kneels before Mayawati.
What is the seat share of SP and BSP?
Asked 2019-01-14 14:43:35 by Abhinav Mittal
Answered by NewsBytes
SP and BSP will contest on 38 seats each in Lok Sabha elections. UP has 80 Lok Sabha seats.
What did Akhilesh Yadav say about the alliance?
Asked 2019-01-14 14:43:35 by Navya Balasubramanium
Answered by NewsBytes
Akhilesh Yadav thanked Mayawati for joining hands with SP and claimed the alliance will go beyond Lok Sabha elections.