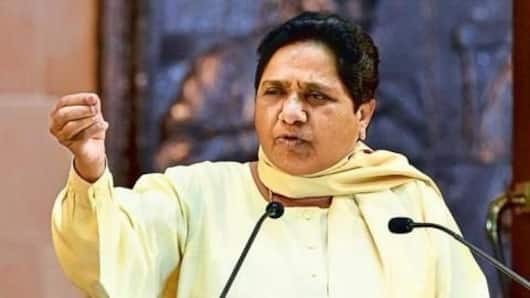 Mayawati asks for BSP-SP unity as gift for birthday
Bahujan Samaj Party (BSP) supremo Mayawati is celebrating her 63rd birthday today and, for her birthday gift, has called for unity with the Samajwadi Party (SP) ahead of the national elections.
Urging that past differences be put aside, Mayawati has said that a victory for the BSP-SP alliance in Uttar Pradesh would be her greatest birthday gift.
Here's more on what she said.
Forget past differences, ensure victory for BSP-SP candidates, says Mayawati
"Forget past differences and ensure the victory of all joint candidates of the SP and the BSP. This will be my ideal birthday gift," said Mayawati.
What Mayawati said in her traditional birthday press conference
Speaking at her traditional birthday press conference, Mayawati said that the recently announced BSP-SP alliance had "robbed the BJP and others of their sleep" in UP.
She added that UP, being the biggest state in India, would decide who would come to power at the Center and who would become India's next Prime Minister.
Love Politics news?
Stay updated with the latest happenings.
Yes, notify Me
BSP-SP alliance was announced on Saturday; Congress was left out
Mayawati's words come just days after the SP and the BSP announced an alliance in UP on Saturday.
However, the Congress was left out of the alliance, and the grand old party did not take kindly to the move, saying that its exclusion from a grand alliance in UP was playing into the hands of the BJP.
Congress: BJP wants secular parties to remain politically divided
"An SP-BSP alliance in Uttar Pradesh without the Congress was exactly what the BJP wanted initially and the two regional parties have fallen into the ruling party's design," Congress leader RPN Singh had said on Monday.
Who could be the alliance's PM candidate? It's anyone's guess
During the announcement of the BSP-SP alliance, the question of who could become the alliance's prime ministerial candidate was raised.
While no clear answer was given, SP President Akhilesh Yadav had said, "You know who I would support. I will be happy if again there is a prime minister from UP," as a smiling Mayawati looked on.
What is the seat sharing arrangement between BSP and SP?
Asked 2019-01-15 14:29:47 by Harini Rangarajan
Answered by NewsBytes
The BSP and the SP will contest the 2019 Lok Sabha elections on equal seats from UP.
Have they left out any seats?
Asked 2019-01-15 14:29:47 by Angel Shah
Answered by NewsBytes
Yes. The alliance will not contest from the Amethi and Rae Bareli seats, which have been left for Congress President Rahul Gandhi and his mother, Sonia Gandhi.
Did BSP and SP have an alliance earlier?
Asked 2019-01-15 14:29:47 by Trisha Subramanium
Answered by NewsBytes
Despite being arch-rivals, BSP founder Kanshi Ram and Akhilesh Yadav's father Mulayam Singh Yadav had tried stitching together an alliance in 1993. However, it ultimately fell apart.
How many Lok Sabha seats does Uttar Pradesh have?
Asked 2019-01-15 14:29:47 by Diya Saxena
Answered by NewsBytes
UP has 80 Lok Sabha seats.