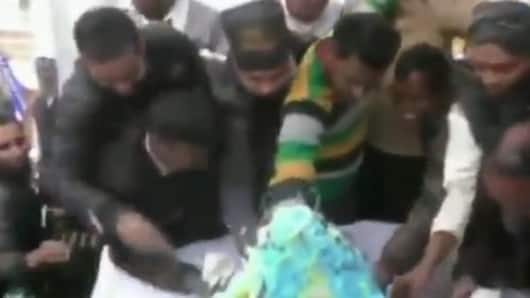 Mayawati turned 63: Supporters 'loot' cake, party with bar-dancers
Bahujan Samaj Party (BSP) supremo Mayawati might have decided to celebrate her 63rd birthday in a low key fashion, but her die-hard loyalists wished to celebrate it pompously.
And, they did so!
From snatching pieces of a 63 kg multi-layered cake to having a lavish party with a special performance from bar dancers, Mayawati's supporters in UP had a blast.
Here's more.
Party supporters in Amroha create chaos, grab chunks of cake
In Amroha, about 420kms away from Lucknow, supporters of the BSP supremo had ordered a massive multi-layered pyramid-shaped cake to celebrate her birthday.
However, the cake toppled soon as party workers and others made sure they get a share.
A video of the incident was shared on Twitter, which showed men going out of control and grabbing chunks of the cake with their hands.
Love Politics news?
Stay updated with the latest happenings.
Yes, notify Me
Netizens condemned the video, said BSP will loot country similarly
Needless to say, the video garnered lots of negative comments from the netizens.
Many were appalled to see such uncouth behavior by the party workers and called it a glimpse of how they'll loot the country if they come to power.
One netizen wrote, "That's how the thugbandhan partners (BSP and SP) will loot our country if they came to power."
'Baaratis' stole food, cutlery during Tej Pratap Yadav's wedding
Sadly, party-cadres stealing food at such occasions is not new. Last year, during the wedding of RJD-supremo Lalu Prasad Yadav's son, Tej Pratap, RJD supporters entered the VVIP pavilion and ransacked the food counters, chairs, and cutlery, as they felt entitled to, being the baraatis.
BSP loyalists in Damoh celebrated by dancing with bar dancers
Notably, in another celebration in the state, BSP legislator from Pathariyan, Ram Bai Singh, and other party workers threw an extravagant party in Damoh and bar dancers were called to entertain.
A video shared on social media showed guests grooving on regional songs like, Teri Aakhya Ka Yo Kajal.
Also, sweets equivalent to the weight of the MLA were also distributed among the guests.
Mayawati dubs SP-BSP alliance as 'perfect birthday gift'
Meanwhile, Mayawati began her birthday celebration by addressing a press conference where she spoke about the newly formalized SP-BSP alliance.
She also appealed to BSP party candidates to forget their past differences and work together with SP workers.
She dubbed the alliance with SP as her "perfect birthday gift".
Following this, SP leader Akhilesh Yadav visited Mayawati at her residence.
Birthday posters of Mayawati circulated projecting her as next PM
Also, on her birthday, Mayawati's loyalists have declared her the Prime Ministerial-candidate in the upcoming Lok Sabha elections. Posters of birthday wishes for the BSP supremo have been making rounds on the Internet projecting her as the next Prime Minister.