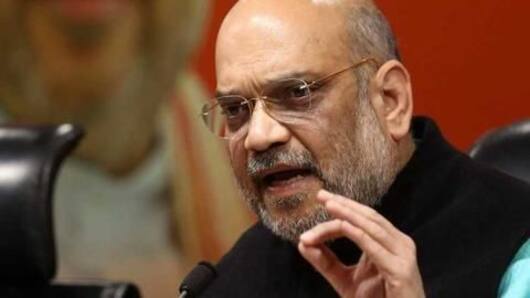 Amit Shah has 'suar ki beemari', says Congress MP
Senior Congress leader BK Hariprasad made derogatory remarks on the health of BJP President Amit Shah, saying he has contracted suar ki beemari (illness of pigs).
Shah revealed on Wednesday he was suffering from swine flu, and that he was admitted to AIIMS.
Notably, Hariprasad's party, the Congress, in a tweet wished the BJP Chief and Union Finance Minister Arun Jaitley speedy recovery.
Hariprasad hits out at Shah, targets his illness
Hariprasad, who is a senior member of Karnataka Congress, reportedly said, "Few MLAs have returned to the state [Karnataka]. Because of this Amit Shah has panicked and has contracted a virus. It is not normal fever. It is swine flu -- suar ki beemari."
Further, he warned that on meddling in Karnataka government, one would also get 'diarrhea and vomiting illness'.
BJP asks Rahul Gandhi to take action against Hariprasad
Congress MP AICC General Secretary BK Hariprasad mocking at health condition of Sri @AmitShah ji shows his mental stability

This rogue needs to learn human values is unfit to live in a civilised society.

We request @RahulGandhi to admit him to NIMHANS to get some treatment pic.twitter.com/5NFgdI8Ydt

— BJP Karnataka (@BJP4Karnataka) January 17, 2019
Love Politics news?
Stay updated with the latest happenings.
Yes, notify Me
Hariprasad was referring to Karnataka's political crisis
Hariprasad was referring to the alleged horse trading being done to topple the coalition government of the state.
Earlier this week, two independent MLAs withdrew support from the JD(S)-Congress government led by HD Kumaraswamy.
Notably, nearly 100 MLAs of BJP were staying at a resort in Gurugram, but the party denied reports of bringing down the government while maintaining coalition will fall on its own.
Unsurprisingly, BJP leaders lash out at Hariprasad
While Hariprasad clearly wanted to slam BJP over Operation Lotus, the choice of words was utterly deplorable. BJP leaders were quick to remind him the same.
Union Minister Piyush Goyal said the comments showed the mentality of Congress. He tweeted swine flu is curable, but there's no cure for sick thoughts.
Rajyavardhan Singh Rathore tweeted he was sad but not surprised.
Soon after comments got attention, Piyush Goyal slammed Hariprasad
जिस तरह का गंदा और बेहूदा बयान कांग्रेस के सांसद बीके हरिप्रसाद ने भाजपा अध्यक्ष @AmitShah जी के स्वास्थ्य के लिये किया हैं, यह कांग्रेस के स्तर को दर्शाता है, फ्लू का उपचार है, लेकिन कांग्रेस के नेताओं की मानसिक बीमारी का उपचार मुश्किल है

— Piyush Goyal (@PiyushGoyal) January 17, 2019
What happened to Amit Shah?
Asked 2019-01-17 16:46:43 by Rishika Gupta
Answered by NewsBytes
Amit Shah has been diagnosed with swine flu. He is undergoing treatment at AIIMS.
What did BK Hariprasad say about Amit Shah?
Asked 2019-01-17 16:46:43 by Arjun Sarin
Answered by NewsBytes
BK Hariprasad said Amit Shah has contracted an illness of pigs. He said this happened because he attempted to meddle in Karnataka government.
What did Congress say on Amit Shah's health?
Asked 2019-01-17 16:46:43 by Navya Gavde
Answered by NewsBytes
Congress wished BJP Chief Amit Shah speedy recovery.
How did BJP leaders react to Hariprasad's comments?
Asked 2019-01-17 16:46:43 by Aditya Saxena
Answered by NewsBytes
BJP leaders said it showed the mentality of the Congress.