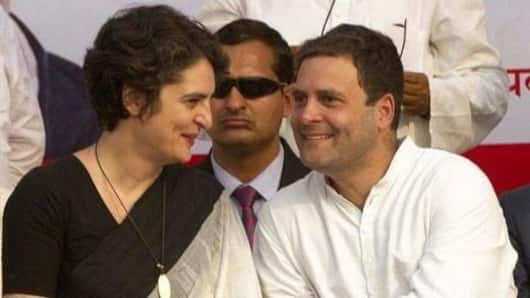 What does Priyanka Gandhi's entry into politics mean for India
In what qualifies as a 'stop the press' moment, Priyanka Gandhi Vadra took the plunge into active politics on Wednesday. Her brother Rahul Gandhi, who is the President of Congress, announced the decision and party cadre jumped in happiness.
Despite being a known face, Priyanka chose to stay away from politics.
Then why is Congress depending on her? Will the party succeed?
Let's dig deep.
Born to the Gandhi family, Priyanka's privileges aren't unknown
Now, Priyanka is privileged. She belongs to the first family of politics (?), is the daughter of former Prime Minister Rajiv Gandhi and granddaughter of Indira Gandhi.
Priyanka, an alumnus of Modern School and Delhi University's Jesus and Mary college, has been in public eye for her entire life.
She gave her first public speech when she was 16.
Priyanka's uncanny resemblance to grandmother Indira is unmissable
More often than not, Priyanka has been compared to Indira Gandhi. She has been projected as second Indira, so many times by Congress loyalists, that one can't help but mention them in the same sentence.
She dresses just like her grandmother, the hairstyle is the same too, but Priyanka is not second Indira.
She neither has the charisma nor demands the same respect.
Love Politics news?
Stay updated with the latest happenings.
Yes, notify me
Priyanka is popular in Congress' bastions. That's about it
Now, Priyanka may have received thunderous response whenever she went to Raebareli and Amethi, but it doesn't prove she is one of the most popular politicians of the country.
These constituencies have forever been Congress bastions and the locals feel a sense of connection to the Gandhi family.
This might not be the case for other parts of UP, or India.
Priyanka will lock horns with PM Modi directly
In Eastern UP, Priyanka will have to battle Prime Minister Narendra Modi and UP Chief Minister Yogi Adityanath.
PM Modi's Lok Sabha constituency Varanasi belongs to this part of the state and so do the areas which are seen as Adityanath's strongholds.
Undoubtedly, Priyanka lacks the mass appeal of PM Modi. In this direct fight, PM Modi clearly has an upper hand.
Priyanka is married to Robert Vadra, BJP's favorite target
Not to forget, Priyanka's husband Robert Vadra is a piece of huge baggage as well.
The BJP has constantly targeted Congress over the easy land deals given to the businessman and leveled charges of corruption too.
In 2014, da se damad was saffron party's favorite tagline. This time one can expect more such barbs from the BJP considering Priyanka is on the frontline.
Truth be told, Priyanka got the post because 'she's family'
The elevation of Priyanka to a key post has once again shown that Congress can't look beyond nepotism.
Despite contributing to the party via campaigns, Priyanka maintained a distance, saying there are other ways to serve the people.
Nevertheless, she was made the General Secretary for UP East of Congress, without contesting an election ever.
Congress and dynasty politics definitely go hand in hand.
The battle lines are drawn
UP will be witnessing a three-way battle this time. SP and BSP have joined hands, burying the hatchet, and BJP is hoping to regain most of its seats.
Congress' battle will be far from easy considering the party got just 2 seats in 2014.
Priyanka will emerge as Congress' face in UP, but it will take a lot more than her to win the state.
Who is Priyanka Gandhi?
Asked 2019-01-23 16:47:50 by Pranav Pillai
Answered by NewsBytes
Priyanka Gandhi is the sister of Rahul Gandhi and daughter of Rajiv Gandhi.
What post was Priyanka Gandhi given?
Asked 2019-01-23 16:47:50 by Vibhore Mistry
Answered by NewsBytes
Priyanka Gandhi was given the AICC General Secretary post for UP East by Congress.
When did Priyanka Gandhi marry?
Asked 2019-01-23 16:47:50 by Parakram Powar
Answered by NewsBytes
Priyanka Gandhi married Robert Vadra in 1997.
Will Priyanka Gandhi contest elections?
Asked 2019-01-23 16:47:50 by Vibhore Kapur
Answered by NewsBytes
No. The party has not said anything about giving Priyanka a Lok Sabha ticket.