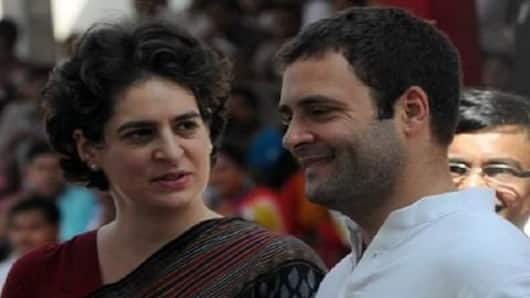 In Priyanka Gandhi's elevation, BJP sees her brother Rahul's failure
On Wednesday, Congress President Rahul Gandhi gave a key post to sister Priyanka ahead of general elections and ruling BJP was quick to slam him.
BJP's spokesperson Sambit Patra said Priyanka was RaGa's 'crutch' and he took her help as Congress was kept out of mahagathbandhan.
Meanwhile, RaGa said he hasn't sent Priyanka and Jyotiraditya Scindia to UP for just two months.
Here's more.
Priyanka given reins of Eastern UP
Priyanka was made the General Secretary for UP East by Congress. After the stunning announcement, party cadres broke into celebration in different parts of the country.
In Amethi, Congress cadres equated Priyanka to her grandmother, calling her the second Indira Gandhi.
RaGa said she is young and capable while adding that the Congress won't fight on backfoot in UP or elsewhere.
Priyanka and Jyotiraditya will take Congress' ideology forward: RaGa
"I have not sent Priyanka and Jyotiraditya for just two months. I have sent them to take Congress' ideology forward in Uttar Pradesh. Our ideology of standing and fighting for the poor, for the youth, for the farmers," RaGa said.
Love Politics news?
Stay updated with the latest happenings.
Yes, notify me
Congress will fight tooth and nail, clarifies RaGa
Rahul Gandhi in Amethi: Aaj maine Priyanka ko General Seceratary bana diya hai UP ka, matlab ab yahan pe Congress apna CM bithane ka kaam karegi, Dilli mein Congress party ke gathbandhan ki sarkar or UP mein poore dum se Congress party ladegi. pic.twitter.com/79Ao9g0NQx

— ANI UP (@ANINewsUP) January 23, 2019
RaGa needs family since he failed, claims BJP
Quite obviously, BJP didn't leave the golden opportunity to take potshots at Congress' dynasty politics.
"Priyanka, who is from his (Rahul's) family, is like a crutch for him," Patra said and went on to claim Congress has accepted RaGa is incompetent.
About 'difference' between Congress and BJP, Patra said, "Party is the family for the BJP whereas family is the party for Congress."
Why only one family, asks Patra
"All selections are done in only one family. Somewhere Rahul has failed... Who will be the next after Nehru, Indira Gandhi, Rajiv Gandhi, Sonia Gandhi, and Rahul Gandhi? Only one family," Patra told media.
What was the post given to Priyanka Gandhi?
Asked 2019-01-23 18:01:13 by Navya Kapur
Answered by NewsBytes
Priyanka Gandhi was made the general secretary for UP East of Congress.
What did Rahul Gandhi say on Priyanka's new post?
Asked 2019-01-23 18:01:13 by Aaradhya Mehta
Answered by NewsBytes
Rahul Gandhi claimed his sister Priyanka is able and efficient. He said Congress won't fight on backfoot in UP.
What did BJP say on this development?
Asked 2019-01-23 18:01:13 by Trishla Jindal
Answered by NewsBytes
BJP said Priyanka's elevation showed Congress has accepted Rahul Gandhi is incompetent.
Will Priyanka Gandhi contest polls?
Asked 2019-01-23 18:01:13 by Aadhya Singh
Answered by NewsBytes
No. As of now, Priyanka hasn't been given a Lok Sabha seat.