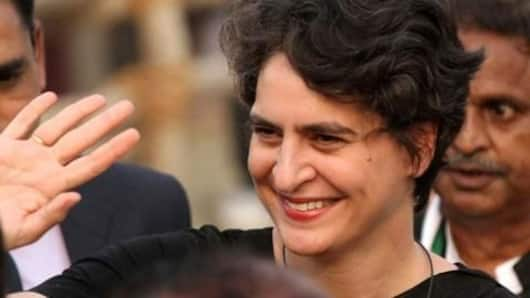 Even senior Congress leaders were unaware of Priyanka's political plunge
Just four months before the anticipated general elections, Congress played its trump card on Wednesday by announcing Priyanka Gandhi's plunge into active politics.
Priyanka, Congress President Rahul Gandhi's younger sister, had always been at backstage in Indian politics, campaigning for her brother and mother Sonia.
While the announcement stunned all, it has now been learned that not even senior leaders were aware of it.
The decision was kept as a secret
According to an HT report, the move was kept under wraps and not even senior Congress leaders had a whiff of this development.
It wasn't a mere coincidence that the announcement was made on the day Rahul started his two-day trip to Amethi, his constituency.
Reportedly, Ghulam Nabi Azad, who took care of UP for Congress, had called a meeting with office-bearers on Thursday.
After Dubai, Rahul went to US to meet Priyanka
On January 12, Rahul had in a speech in Dubai asked everyone to wait for a big announcement. It is suggested he went to the US after Dubai to discuss politics with sister Priyanka.
Priyanka being made the general secretary of UP East for Congress sent a wave of happiness across party cadres.
For years, they have been asking when she would enter politics.
Love Politics news?
Stay updated with the latest happenings.
Yes, notify Me
Priyanka played an important role in 2017?
It is well known by now that Priyanka has always been crucial for Congress, despite getting the limelight only now.
She was instrumental in stitching an alliance with Samajwadi Party in 2017 Assembly polls. But it didn't translate to results.
In the 403 seat assembly, Congress won just seven seats.
Nevertheless, Priyanka has received a warm welcome, especially by Congress loyalists.
Prashant Kishor feels this move will shatter BJP's illusions
Priyanka's elevation to a top post, albeit without any first-hand election experience, invited flurry of reactions.
Prashant Kishor, former election strategist and now a member of JD(U), said, "Her entry will change the nature of politics in the country. This will also shatter the illusions of the BJP and give its leaders sleepless nights henceforth."
Meanwhile, BJP saw Rahul's failure in this decision.
Who is Priyanka Gandhi?
Asked 2019-01-24 17:19:16 by Shreyas Singh
Answered by NewsBytes
Priyanka Gandhi is the younger sister of Rahul Gandhi, the daughter of former Prime Minister Rajiv Gandhi and granddaughter of Indira Gandhi.
What was the big announcement which Congress made?
Asked 2019-01-24 17:19:16 by Ajay Mehta
Answered by NewsBytes
Congress made Priyanka Gandhi the general secretary for UP east on 23rd January.
How did Rahul Gandhi react?
Asked 2019-01-24 17:19:16 by Charvi Powar
Answered by NewsBytes
Rahul Gandhi was confident Priyanka will revive Congress' ideology in the state.
What was BJP's take on this?
Asked 2019-01-24 17:19:16 by Aanya Khan
Answered by NewsBytes
BJP said Congress showed it can't look beyond dynasty politics.