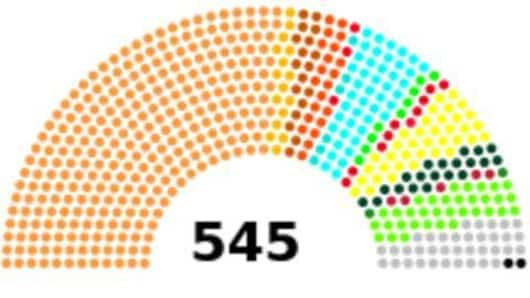 First by-polls in several states after demonetization
By-polls are being conducted in five states in India: Assam, Tripura, Madhya Pradesh, West Bengal, Tamil Nadu and one Union Territory, Puducherry.
Voting is underway for eight assembly and four Lok Sabha constituencies.
These by-polls are of significance as they could be the litmus test for the BJP after its radical demonetization move.
Let's take a look at where by-polls are being held.
Arunachal Pradesh by-poll eagerly watched
Credits:
The by-poll in Arunachal Pradesh is significant as the seat for Hayuliang is being contested by Desingu Pul on a BJP ticket.
Desingu Pul is the wife of late chief minister Kalikho Pul, who committed suicide in mysterious circumstances.
Demonetization impacted Arunachal Pradesh rather severely; some places people adopted a barter system however many are facing an acute cash crunch as ATMs/branches are shut.
Tripura by-polls
By-polls are underway in two Tripura Assembly seats - Barjala and Khowai.
Little over 78,000 voters will case their votes in 100 polling stations: the TMC has been campaigning aggressively to challenge the ruling Left Front.
Tripura's CM has called 'demonetization' a 'political gimmick' and requested the government to allow use of old notes till Dec 30 until alternative arrangements can be made.
Love Politics news?
Stay updated with the latest happenings.
Yes, notify Me
Assam by-polls in background of demonetization
Credits:
By-elections are being held in Lakhimpur and Baithalangso constituencies in Assam.
Assam like other northeast states is also struggling with demonetization as replacement currency is yet to reach everywhere.
In Assam there are 10 lakh garden labourers with 900 tea estates who are paid in cash weekly; fearing a revolt the central government has made special arrangements to disburse cash to them.
West Bengal by-polls
By-poll elections are being held for Cooch Behar, Monteswar and Tamluk constituencies.
The elections are happening at a time of chaos as most people are in front of ATMs to withdraw cash.
In the last lap of the campaign, demonetization was a key issue for parties.
CM Mamata Banerjee and Left Front have lashed-out at the government for creating much hardship for rural dwellers.
Madhya Pradesh, Puducherry and Tamil Nadu
There is a by-poll election for Shahdol Lok Sabha constituency and Nepanagar assembly seats in Madhya Pradesh.
In Tamil Nadu by-polls are being held in Thiruparankundram, Thanjavur and Aravakurichi: politicians across TN parties praised the demonetization move.
In Puducherry, by-polls are being held for Nellithope assembly seat: Puducherry is a popular tourist destination and foreign exchange services were massively hit due to demonetization.
Bypoll results: BJP in MP and Assam, TMC in WB
Counting for by-elections in 4 LS constituencies and 10 assembly seats across 6 states and one UT began today.
BJP performed well in Assam and MP; it retained both seats in MP.
Congress's V Narayanasamy won the Nellithope Assembly seat in Pudducherry; AIADMK has been leading in TN.
TMC may retain their assembly seat and two parliament seats in West Bengal.
By-polls: BJP, AIADMK, TMC retain their seats
The BJP rejoiced as it retained Lok Sabha seats in Shahdol in Madhya Pradesh and Lakhimpur in Assam, also retaining Nepanagar assembly seat in Madhya Pradesh and gained the Baithalangso assembly seat in Assam; BJP won an assembly seat in Arunachal Pradesh.
TMC retained all the seats that were up for grabs in West Bengal, while AIADMK retained all their seats in Tamil Nadu.