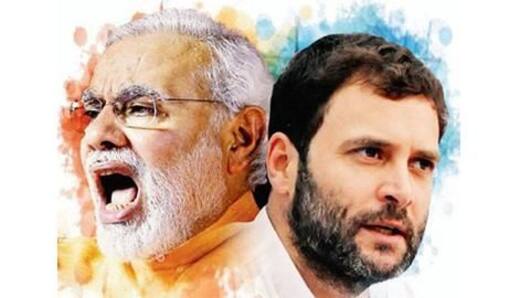 After RaGa's minimum-wage, now Modi mulling Universal Basic Income
The Narendra Modi government is planning to announce Universal Basic Income (UBI) in the budget which will be presented on February 1, IANS reports.
The idea is to counter Congress President Rahul Gandhi's promise, which he made on Monday, that poor will get a minimum wage if his party comes to power after Lok Sabha elections.
Centre's UBI would cater to poorest of poor.
The UBI will cost close to Rs. 7,000 crore
While there is little idea on who the beneficiaries of the project will be or what will be the threshold levels, the government seems committed to change its fiscal equation.
In the economic survey of 2016-17, the government had revealed plans of UBI for the bottom 75% of the country.
The scheme would mean an additional burden of around Rs. 7000 crore on Centre.
Economic survey said UBI is better than other welfare schemes
The survey which advocated for UBI underlined that in comparison to other welfare schemes, UBI is better.
While other schemes are poorly targeted, depositing money through UBI into bank accounts will limit pilferage, the survey argued.
It added UBI will be easy to check and will play a role in curbing poverty.
However, the survey concluded that UBI shouldn't be implemented just yet.
Love Politics news?
Stay updated with the latest happenings.
Yes, notify me
UBI may stop people form going to work, feel critics
Another aspect which the survey highlighted was the need for a robust blueprint for the implementation.
If UBI is implemented without proper debate or deep analysis, the results will be disappointing.
Meanwhile, critics of UBI feel it will promote lethargy. They believe laborers may quit their jobs in hope of money in accounts and it will adversely affect the fragile social security architecture.
Experts take: Here's what Arvind Subramanian said on it
Speaking on the idea, former CEA, Arvind Subramanian told News18, "I mean if you're really poor which is what this addresses, are we sure that getting people from having very little to up to the poverty line is going to make them stop working?"
Government spends thousands of crores on food subsidy, MGNREGA
It should be noted the government already spends Rs. 170,000 crore on food subsidy and an additional Rs. 55,000 crore on MGNREGA.
A question looming this probable announcement is the number of districts which will participate in the pilot project.
The Centre will also have to clarify who all will benefit from the scheme as food subsidy and UBI can't go hand in hand.
Notably, pilot in Madhya Pradesh yielded good results
The UPA government had rolled out UBI in Madhya Pradesh in 2011-12. While one pilot ran in nine villages, another one ran in two tribal villages. In the nine villages, adults received Rs. 200 and kids got Rs. 100 per month.
In tribal villages, adults were given Rs. 300 and kids got Rs. 150.
The results showed the beneficiaries saved money, their standard of living improved and they spent money on education.
With elections around the corner, big guns are coming out
In election season, parties are going all out with their promises to garner votes and RaGa's mega-announcement shows that. On social media, people were apprehensive about this and wondered where will the money come from.
Notably, the BJP has bee mulling UBI since it lost Hindi heartland states in December last year.
And after RaGa's shocker, BJP might make another big announcement.
What was Rahul Gandhi's big announcement all about?
Asked 2019-01-29 20:29:18 by Hemant Mukopadhyay
Answered by NewsBytes
Rahul Gandhi said that if Congress comes to power after Lok Sabha elections, poor will get a minimum wage.
What is UBI?
Asked 2019-01-29 20:29:18 by Devansh Bhatnagar
Answered by NewsBytes
UBI stands for Universal Basic Income and Narendra Modi government might announce it in the upcoming budget.
How much will UBI cost?
Asked 2019-01-29 20:29:18 by Dhruv Patel
Answered by NewsBytes
UBI will cost the Centre somewhere around Rs. 6540 crore-7620 crore.
What are the benefits of UBI?
Asked 2019-01-29 20:29:18 by Dhruv Tambe
Answered by NewsBytes
UBI could minimize pilferage, will be easy to check and could help in eradicating poverty.