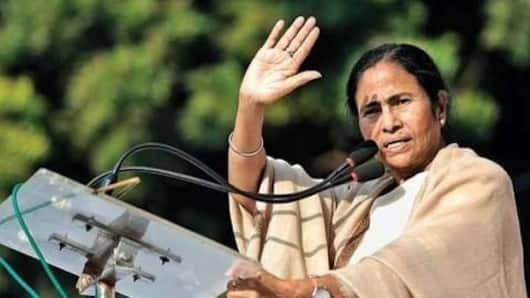 CBI v/s Kolkata Police: How is it Mamata's moral victory?
West Bengal Chief Minister Mamata Banerjee said the Supreme Court's verdict on the tiff between Central Bureau of Investigation and Kolkata police was a 'moral victory'.
The apex court on Tuesday ruled CBI can't arrest Rajeev Kumar, Commissioner of Police while directing him to appear before the agency.
The top court just removed roadblocks from CBI's path. What exactly is Banerjee celebrating then?
The CBI was insulted, humiliated by local police in Kolkata
On Sunday, CBI went to Kumar's residence to interrogate him. It is alleged he hid documents related to probe in Saradha chit fund scam, didn't cooperate with the agency and deliberately delayed the investigation.
Rather than facilitating the probe of CBI officials, Kolkata police humiliated them.
The officers were forcibly detained, taken to a police station and the questioning never happened.
Earlier too, Kolkata police stopped CBI's probe
The series of events obviously miffed CBI. M Nageshwar Rao, who was the interim chief of CBI, said this wasn't the first time Kolkata police hindered their probe.
In the past whenever CBI officers took concrete steps, local police found new ways to 'harass them'.
It seemed the Kolkata police left CBI with no option but to approach the SC.
Love Politics news?
Stay updated with the latest happenings.
Yes, notify Me
Reading between lines: What did the Supreme Court say?
The ruling hints SC understood the concerns of the CBI. The SC asked Kumar to appear before the CBI in 'neutral place' Shillong, Meghalaya.
While local police jumped to guard Kumar in Kolkata, helping him evade questioning, the same won't be possible in Meghalaya.
CBI has been trying to get its hands on Kumar for years now and the SC just helped the agency.
SC also issued notices to Banerjee's government
Moreover, the top court issued notices to Kumar, West Bengal DGP and the state government on contempt plea filed by CBI.
Earlier, CJI Ranjan Gogoi said if Kumar even thinks of destroying evidence, the top court would come down heavily on him.
All the recent incidents hint West Bengal state government isn't exactly in the good books of SC. Why is Banerjee elated then?
The verdict is anything but Banerjee's win
After the verdict, Banerjee said she is happy Kumar won't be arrested. She thanked the court for restoring faith in democracy and said the ruling will boost the morale of other officers.
But her words only show she has mastered the art of twisting facts.
If anything, the verdict has only boosted the morale of CBI officers who were manhandled by Kolkata police.
Whose moral victory is it, anyway?
Notably, after the verdict, everyone claimed it was their 'moral victory'.
While Delhi Chief Minister Arvind Kejriwal congratulated Banerjee and thanked her for 'fighting for all', Union Law Minister Ravi Shankar Prasad said this was CBI's win.
It is safe to say, in politics, no one loses or wins. It all depends on how well you can 'read' SC's judgment (and twist it).
Why are CBI and Kolkata police fighting?
Asked 2019-02-05 14:17:10 by Ridhi Rodrigues
Answered by NewsBytes
CBI and Kolkata police have been at loggerheads since Sunday after the agency wasn't allowed to question commissioner Rajeev Kumar.
Who is Rajeev Kumar?
Asked 2019-02-05 14:17:10 by Arjun Rathore
Answered by NewsBytes
Rajeev Kumar is the commissioner of Kolkata police who headed the SIT which was formed to investigate Saradha chit fund scam.
What did Supreme Court say?
Asked 2019-02-05 14:17:10 by Shreya Yadav
Answered by NewsBytes
Supreme Court said CBI can't arrest Kumar but asked the latter to cooperate in the probe.
What was Mamata Banerjee's first reaction after the verdict?
Asked 2019-02-05 14:17:10 by Divya Sarin
Answered by NewsBytes
Mamata Banerjee said the verdict was a moral victory.