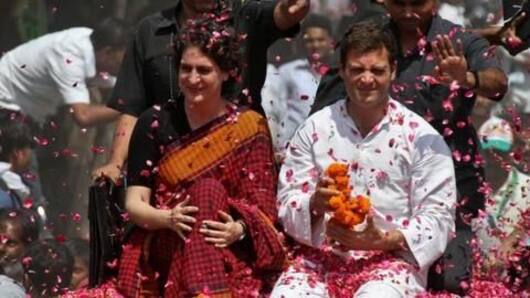 Roadshow in Lucknow: Neta Priyanka and brother Rahul take centerstage
Lucknow aa raha hoon, tweets RaGa
लखनऊ आ रहा हूँ|

प्रियंका गांधी वाड्रा जी और ज्योतिरादित्य सिंधिया जी साथ होंगे|

दोपहर करीब 12 बजे, लखनऊ के हवाई अड्डे से पार्टी मुख्यालय तक रोड-शो का आयोजन किया गया है|

आप सभी से मिलने को उत्साहित हूँ| pic.twitter.com/H0yuBQvthM

— Rahul Gandhi (@RahulGandhi) February 11, 2019
Congress' star campaigners will move through Lucknow's congested areas
The roadshow, which will reportedly be 30 kms long, will pass through the most congested areas of Lucknow.
From Lucknow airport, the leaders will go to Hussainganj, Hazratganj, before ending the roadshow at the party office.
This is Priyanka's maiden visit to UP after she formally joined politics. She will stay in the state for three days to chalk out the election strategy.
Love Politics news?
Stay updated with the latest happenings.
Yes, notify Me
Congress left no stone unturned in preparing for the roadshow
Considering all eyes are on the roadshow, Congress made opulent plans for it.
Large hoardings have been put up on the path to be trodden by the leaders and the party office has also been decked up.
Besides, Congress workers also formed a Priyanka Sena. The members of this army donned T-shirts having her face on it.
The leaders could address party cadres too.
Meet members of Priyanka Sena
Congress workers wear t-shirts with Congress General Secretary for Eastern Uttar Pradesh, Priyanka Gandhi Vadra's face to welcome her ahead of her road show with Congress President Rahul Gandhi in Lucknow today. (Earlier visuals) pic.twitter.com/29Q1xbKK8J

— ANI UP (@ANINewsUP) February 11, 2019
Earlier, Priyanka released an audio message confirming her visit
In an audio message which was released on Congress' Shakti App on Sunday, Priyanka confirmed her visit.
"I hope we all will make a new beginning in politics that will include you all. My young friends, my sisters, and weakest person, all will have a say," she said.
Separately, Scindia also released a message urging young people of UP to bring about a change.
Meanwhile, Raj Babbar says UP is 'feeling privileged'
"Uttar Pradesh is feeling privileged as Priyanka Gandhi Vadra is beginning her active politics from here....We can see hoardings with slogans 'Badlav ki aandhi, Rahul sang Priyanka Gandhi (Winds of change, with Priyanka and Rahul Gandhi)," said state Congress chief Raj Babbar.
Priyanka and Scindia will begin touring constituencies soon
Giving more insights on Priyanka's visit, Babbar said she will meet partymen between February 12 and 14.
"Priyanka Gandhi and Jyotiraditya (Scindia) will begin touring the Lok Sabha constituencies of east and west UP, respectively, on February 18," Babbar said.
According to HT, Priyanka may also hold roadshows in other cities. A visit to Kumbh Mela in Prayagraj is also under consideration.
Congress was whitewashed in 2014. Will 2019 be different?
Priyanka, whose plunge into active politics was announced last month, is seen as Congress' trump card. Earlier, she restricted herself to campaigning for brother RaGa and mother Sonia, but now her challenge is to revive the party in UP.
In the 2014 elections, Congress only managed to retain its bastions- Raebareli and Amethi.
It's left to be seen how Priyanka changes Congress' fate.
At what time will Priyanka Gandhi's roadshow begin?
Asked 2019-02-11 11:13:53 by Parakram Powar
Answered by NewsBytes
Priyanka Gandhi's roadshow in Lucknow is expected to start at noon.
Who all will accompany Priyanka Gandhi?
Asked 2019-02-11 11:13:53 by Paridhi Singhal
Answered by NewsBytes
Priyanka Gandhi will be joined by her brother Rahul Gandhi and Jyotiraditya Scindia.
How has Congress planned for the roadshow?
Asked 2019-02-11 11:13:53 by Rajesh Pawar
Answered by NewsBytes
Congress put up hoardings of Priyanka on the streets of Lucknow. The party office was also decked up.
How many Lok Sabha seats are there in UP?
Asked 2019-02-11 11:13:53 by Parakram Shah
Answered by NewsBytes
UP sends 80 MPs to Lok Sabha.