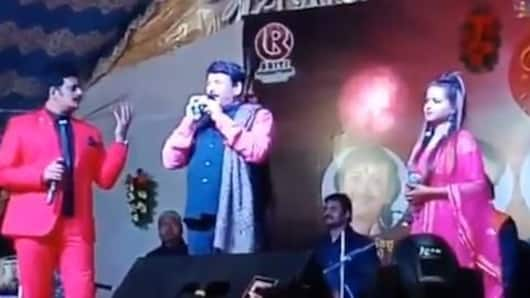 #WaahBJPWaah: Manoj Tiwari danced, Shah addressed rally after Pulwama-attack
Jaish-e-Mohammed struck on Thursday in Jammu and Kashmir and 40 soldiers were martyred. The toll could rise as several others were injured.
While India was at loss of words after the terrible Pulwama attack, for some Bharatiya Janata Party leaders, their schedule was far more important.
Hours after the attack, BJP members continued with their charades of seeking votes, planning alliances, and galvanizing workers.
Innocent soldiers were martyred in valley's worst attack since Uri
The blood spilled on the Jammu-Srinagar highway made the entire nation angry. The attack was carried out by a 20-year-old terrorist, identified as Adil Ahmad, who stayed in Pulwama and joined Jaish last year.
He rammed a Mahindra Scorpio, which was full of explosives, into the CRPF convoy.
Reports claimed nearly 350 kg of explosives was used for the dreadful attack.
Everyone was grieving but Manoj Tiwari had other plans
As soon as the news broke, politicians unanimously condemned the attack. The common emotion was that martyrs won't be forgotten and India stands with the bereaved families.
But far away from the sadness and fury, BJP Delhi Chief Manoj Tiwari was dancing and singing at a function in Prayagraj, Uttar Pradesh.
A video of Tiwari's 'celebration' found its way to social media.
Love Politics news?
Stay updated with the latest happenings.
Yes, notify Me
Tiwari danced, sang, sought votes for PM Modi
Tiwari, who is a famous singer/actor of Bhojpuri film industry, not only sang and danced but also asked people to vote for Prime Minister Narendra Modi in upcoming general elections.
The function took place just a few hours after the attack.
After sanity prevailed (and the celebratory mood subsided perhaps), Tiwari took to Twitter to write he was "speechless" and couldn't control his tears.
Unmoved by the massacre, Shah took on opposition in Karnataka
While one would hope Tiwari was the only thoughtless member of the saffron party, that isn't the case.
Party President Amit Shah addressed the Shakti Kendra Pramukh Samavesh in Sindhanur, Karnataka. In his speech, that lasted nearly half an hour Shah continued attacking the opposition parties.
He went on to ask who was the PM face of the grand alliance.
Soldiers die in Kashmir, Shah talks about Ram Mandir
Ignoring the fact that soldiers were brutally murdered, Shah repeated his stand on sensitive Ayodhya issue hoping to galvanize workers.
He said BJP will ensure a Ram temple is constructed at the disputed site in the temple town of Uttar Pradesh.
Shah listed the 'achievements' of PM Modi in the last five years and said the country needs a strong government.
Separately, Piyush Goyal spoke with AIADMK in Tamil Nadu
Business went as usual for Railway Minister Piyush Goyal as well. Goyal, who is BJP's election in-charge for Tamil Nadu, landed in Chennai past 9.20 PM for alliance talks.
The meeting with AIADMK delegation wrapped up after midnight, according to The Hindu.
Addressing press later, Goyal spoke about ties between AIADMK's late chief Jayalalithaa and PM Modi, saying both parties would work for the state.
Last but not the least, PM Modi addressed a rally
Earlier in the day, it was reported BJP leaders would abort all their rallies for a few days but it didn't happen.
PM Modi addressed a gathering in Jhansi on Friday.
Though he spoke about the attack, it doesn't take away the fact that on a day the country went into mourning, PM Modi announced schemes.
Clearly, for BJP, which gives nationalism certificates at drop of hat, election season means everything.
What happened in Pulwama?
Asked 2019-02-15 19:58:42 by Sai Jindal
Answered by NewsBytes
Jaish-e-Mohammed attacked a CRPF convoy on February 14 in Pulwama and 40 soldiers were martyred.
Who is the head of JeM?
Asked 2019-02-15 19:58:42 by Vihaan Rodrigues
Answered by NewsBytes
JeM is headed by Masood Azhar, who was released by India in 1999.
What is the name of the suicide bomber who attacked CRPF convoy?
Asked 2019-02-15 19:58:42 by Aanya Chopra
Answered by NewsBytes
Adil Ahmed, a Pulwama resident, who joined Jaish last year was the terrorist who carried out the attack.
What did PM Modi say on the attack?
Asked 2019-02-15 19:58:42 by Rajesh Singh
Answered by NewsBytes
PM Modi said the sacrifices won't go in vain and that security forces have been given "full freedom".