Slammed for comments on Pulwama, Sidhu reminds BJP of Kandahar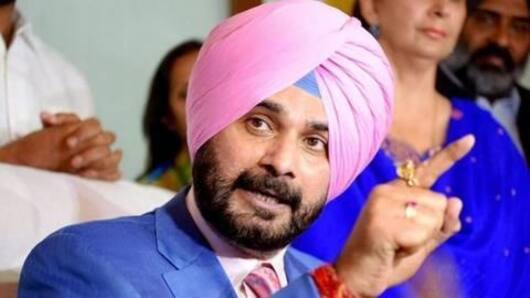 Congress leader Navjot Singh Sidhu, whose remarks on Pulwama attack, stoked a controversy upped his ante against BJP on Sunday by reminding the party of the Kandahar episode.
Sidhu, who took the soft route on the neighboring country, asked who had handed over Masood Azhar, the chief of Jaish-e-Mohammed, to Pakistan 20 years ago.
He also said nationalism is the highest religion.
In context
Navjot Singh Sidhu reminds BJP of Kandahar
Context
Backstory: While nation fumed, Sidhu asked "Why blame entire Pakistan?"
Giving his first comments on the barbaric attack, Sidhu said we can't blame the entire nation (Pakistan) for actions of a few. He added terrorism had no religion.
His comments sparked outrage and people on Twitter demanded Congress to act against him.
They also put pressure on Sony channel to sack Sidhu from The Kapil Sharma Show, and the channel bowed to it.
Defense
Who handed over Masood Azhar to Pakistan, asks Sidhu
However, Sidhu said rather than questioning his nationalism, BJP should look inside.
"Those who are branding me as anti-national should tell people as to who had handed him (Masood) over to Pakistan. What they (BJP) had been doing all these years to get at him," he said.
After spending close to five years in an Indian jail, Masood was released by the NDA government.
Love Politics news?
Stay updated with the latest happenings.
Notify Me
History
A brief recap of what happened in 1999
Masood was arrested in 1994 and kept in a Jammu jail. However, his fate took a turn when in 1999, terrorists of Harkat-Ul-Mujahideen hijacked Indian Airlines flight IC 814, bound for Delhi from Kathmandu.
The terrorists demanded Masood's release in exchange of safe return of Indians.
The then Atal Bihari Vajpayee government relented to the pressure and Masood was released in Kandahar, Afghanistan.
Free man Masood became powerful more than ever
On getting freedom, Masood only grew stronger in Pakistan, allegedly with the support of ISI. He formed Jaish in 2000 and has since then waged a war against India. Jaish carried out the 2001 Parliament attack, the 2016 Pathankot attack, and 2019 Pulwama attack.
Statement
Sidhu dares government to hang terrorists publicly
Clarifying his thoughts on the attack, Sidhu said he condemned terrorism but "innocent people, women, children, elders should not be punished for the acts of a handful of rogue elements." He said Sikhism didn't teach these lessons.
"If you have the guts, bring the guilty back and hang him publicly," he said while adding India's peace and development shouldn't suffer because of terrorists.
Details
Sidhu claims BJP wants to spoil his election campaign
Taking BJP head on, Sidhu said the party was using dirty tactics to spoil his campaigning for upcoming Lok Sabha elections.
"Such things have happened in the past but every time I came out even stronger," the cricketer-turned-politician said.
Notably, Sidhu visited the house of CRPF jawan Maninder Singh, who was martyred in the attack and expressed his sympathies to the family. Most asked questions
What did Navjot Singh Sidhu say on Pulwama?
Who carried out the Pulwama attack?
When was Masood Azhar released?
What did Navjot Singh Sidhu say on Pulwama?
Asked on 18-02-2019 by Ankita Mittal
Answered by NewsBytes
Navjot Singh Sidhu said it was not fine to blame entire Pakistan for actions of few.

Who carried out the Pulwama attack?
Asked on 18-02-2019 by Paridhi Rangan
Answered by NewsBytes
Jaish-e-Mohammed is responsible for the attack in which 40 soldiers were martyred.

Who heads JeM?
Asked on 18-02-2019 by Ananya Kapoor
Answered by NewsBytes
Masood Azhar heads JeM.

When was Masood Azhar released?
Asked on 18-02-2019 by Trishla Nair
Answered by NewsBytes
Masood Azhar was released by India in 1999 after a Delhi bound flight was hijacked.

More questions