Mamata Banerjee speaks out against Army in her state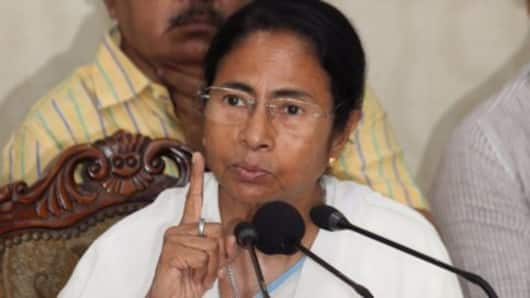 Mamata Banerjee spent a night in her office at the secretariat Nabanna objecting to the proximity of Army soldiers at toll booths along national highways in the state.
She called it Centre's military coup as the state government's consent had not been sought.
The army said it was carrying out routine drills which Mamata Banerjee firmly rejected.
In context
Mamata Banerjee moves against Army in West Bengal
Army was quick to deny military emergency
Army officials told the media: "The army conducts annual exercise throughout the county with the aim of getting statistical data about the load carriers that could be made available to the Army in case of a contingency."
02 Dec 2016
Not a coup, routine exercise: Army
The Army justifying the deployment said that such exercises were conducted for data collection at all toll booths across the country bi-annually.
Army said the exercise would end by Friday and there was "nothing alarming about this and it is carried out as per government orders."
They said similar exercise was being carried out in Arunachal, Manipur, Nagaland, Meghalaya, Tripura and Mizoram.
Love Politics news?
Stay updated with the latest happenings.
Notify Me
02 Dec 2016
Did the police already know?
The CPRO, Defence, Kolkata, Wing Commander SS Birdi had contended that the training was commenced after notifying the District Magistrate and Superintendent of Police.
Mamata Banerjee lashed out at the army saying that the army was giving "absolutely wrong and misleading facts".
However, Kolkata Police confirmed that they were informed about the exercises, but denied permission to the Army on Nov 25 itself.
02 Dec 2016
Trinamool Congress lashes out at the Army
Mamata Banerjee's party said they had checked with other states and no such exercises were being carried out elsewhere.
Banerjee called it "political vendetta" and "an attack on the federal structure" by the central structure because the party had picked up arms against the currency ban.
O'Brien said it was a "dangerous situation," and would raise the matter in parliament.
03 Dec 2016
Opposition decries Mamata's over-reaction
Opposition parties in West Bengal slammed Mamata Banerjee's over-reaction to the army's presence at toll plazas in the state.
The Left accused her of "making a mountain of a molehill", the Congress accused her of attempting to "use the Army for scoring a political point", while the BJP demanded her resignation.
Meanwhile, the TMC threatened to take legal recourse unless the army goes back.
04 Dec 2016
Mamata, Governor spar over Army deployment
A war of words erupted between Mamata Banerjee and West Bengal Governor Keshri Nath Tripathi over the deployment of the army at toll plazas in the state.
Tripathi had asked Mamata to refrain from politicizing the Army, after which she called him a stooge of the Centre.
However, Tripathi has stated that he stood by his words and will do his duty as governor.
09 Dec 2016
Parrikar slams Mamata for comments on Army
In a strongly worded letter, Defence Minister Manohar Parrikar lambasted West Bengal CM Mamata Banerjee for her comments on the armed forces.
Parrikar said that the allegations Mamata made "run the risk of adversely impacting the morale of the country's armed forces."
He also cautioned her and the TMC against involving an "apolitical" army in their political battles.
10 Dec 2016
Mamata to Parrikar: 'You don't know how to write'
West Bengal CM Mamata Banerjee lambasted Defence minister Manohar Parrikar for writing a letter alleging that she was "attempting to demoralize the armed forces."
Taking 'strong exception' to Parrikar's comment she said that she had never witnessed such "political vendetta by misusing the role of an esteemed organization (army)".
Furthermore, she said he didn't know "how to write to a CM."
12 Dec 2016
BJP-TMC war of words escalates
BJP West Bengal President Dilip Ghosh stoked controversy by saying "when Mamata was protesting in Delhi, we could've dragged her by the hair"; Ghosh had earlier said Mamata Banerjee has lost her mind after the demonetization drive.
TMC's Derek O'Brien said this was a new low in the BJP's political hooliganism.
The TMC maintains that the BJP is issuing dangerous "personal threats" to Banerjee.
23 Dec 2016
CRPF deployment unconstitutional and illegal: Mamata Banerjee
In yet another attack to Center, Mamata Banerjee said that deploying 15 CRPF personnel to provide security to IT officers during raids is unconstitutional.
In a letter addressed to Rajnath Singh, Banerjee wrote that her State Government "objects strongly" to the deployment of the CRPF personnel.
She also wrote that the decision is "blatantly unconstitutional, illegal and against all principles of cooperative federalism."