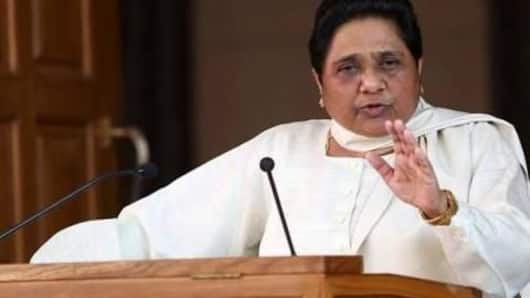 Mayawati won't contest elections, but will seek votes for Mulayam
In what serves as yet another proof that politics is all about changing foes and friends, BSP Chief Mayawati is likely to campaign for her old rival and SP's patriarch Mulayam Singh Yadav in Mainpuri soon, reports claimed.
Mayawati has also given an indication to party leaders that she might not contest elections this time and will only focus on campaigning.
Here's more.
Mayawati and Akhilesh will share stage in Deoband
Mayawati, the tallest Dalit leader in the country, will start campaigning for polls on April 2 from Bhubaneshwar, Odisha.
She will hold the first rally in Uttar Pradesh on April 7 in Deoband. SP leaders including Akhilesh Yadav will also be present at the event.
Notably, all three seats which were shortlisted for Mayawati have been given to other BSP leaders.
Mayawati may not contest elections this time
BSP has made Ritesh Pandey the in-charge of Ambedkar Nagar seat. The Nagina and Bijnore seats went to Girish Chandra Jatava and Haji Iqbal respectively.
According to reports, party cadres requested Mayawati to contest elections but she said that since she is the star-campaigner she won't be able to concentrate on one constituency.
To recall, in the deal with SP, BSP got 38 seats.
Love Politics news?
Stay updated with the latest happenings.
Yes, notify Me
Burying the hatchet, Mayawati will campaign for Mulayam
On April 19, after completion of two election phases, Indian politics will witness an unprecedented event.
Putting decades of animosity aside, Mayawati will seek votes for Mulayam. The two leaders have been at loggerheads after the 1995 guesthouse incident.
Mayawati alleged that SP workers attacked her after she withdrew support from the "anti-Dalit" regime of Mulayam. She had also filed a case back then.
SP and BSP joined hands to defeat BJP
So when Mayawati agreed to join hands with SP, the infamous incident returned to people's memories.
Speaking about the alliance, which was formed to defeat BJP, Mayawati said, "A son shouldn't be judged on the basis of the wrongs committed by his father". She added she has forgotten about the Lucknow guesthouse incident.
Akhilesh also asked all SP workers to respect Mayawati.
Notably, SP and BSP won't field candidates from Gandhis' bastions
Along with from Mainpuri, Mayawati will also campaign for Dimple Yadav in Kannauj, Akshya Yadav in Firozabad, and Dharmendra Yadav in Badaun.
UP has 80 Lok Sabha seats and SP will field candidates from 37 of them.
Both the parties mutually decided to not field candidates from Amethi and Raebareli, the bastions of Congress President Rahul Gandhi and his mother Sonia Gandhi respectively.
When will Mayawati campaign for Mulayam Singh?
Asked 2019-03-16 16:37:08 by Shreya Dutta
Answered by NewsBytes
Mayawati will campaign for Mulayam Singh Yadav on April 19 in Mainpuri.
How may seats were divided between SP and BSP?
Asked 2019-03-16 16:37:08 by Chirag Sengupta
Answered by NewsBytes
Out of 80 Lok Sabha seats, 38 seats went to BSP and SP got 37 seats.
When did guesthouse incident happen?
Asked 2019-03-16 16:37:08 by Hansika Singh
Answered by NewsBytes
The guesthouse incident happened in 1995. Mayawati alleged SP workers attacked her with criminal intentions. She also filed a case.
Why did SP and BSP leave Amethi and Rae Bareli?
Asked 2019-03-16 16:37:08 by Divya Nair
Answered by NewsBytes
SP and BSP didn't field candidates from Amethi and Rae Bareli as they are the bastions of Rahul Gandhi and Sonia Gandhi respectively.