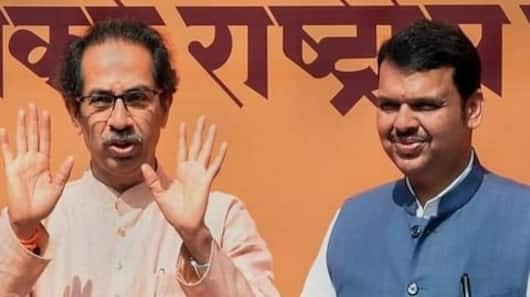 Shiv Sena blames Mumbai's rising population for bridge collapse
Days after a portion of a foot overbridge collapsed in Mumbai, Shiv Sena on Saturday blamed the increasing population in the Maharashtra capital for failing infrastructure.
The editorial in Sena's mouthpiece, Saamna, noted that the government had "paid" compensation to the victims.
Notably, the Brihanmumbai Municipal Corporation (BMC) is governed by Shiv Sena and its ally BJP rules the state.
Here's more.
Backstory: Bridge collapsed and six people died
On Thursday evening, a portion of the Himalaya Bridge, which is close to CST station, collapsed killing six people and injuring at least 30.
Notably, the bridge was audited and in 2018 BMC declared that it just needed minor repairs.
As the incident shed light on Mumbai's crumbling infrastructure, Chief Minister Devendra Fadnavis ordered a high-level probe and announced ex-gratia for kin of deceased.
Love Politics news?
Stay updated with the latest happenings.
Yes, notify Me
Blame the population, because why fix problems?
While Mumbaikars fumed over the incident, Sena washed its hands off.
According to Saamna, the rising population (Mumbai is the second most populated city in the world) made repair work difficult.
It added that several agencies like BMC, MMRDA, MHADA and Mumbai Port Trust worked in Mumbai but work didn't ever get complete.
Sena lamented that other departments didn't take "responsibility".
After fatal incident, BMC suspended two engineers
The editorial also questioned whom between the Railways and BMC was responsible for the bridge. It asked whether Railways gave permission for maintenance work or not.
Notably, after the fatal accident, BMC swung to action, hinting that the bridge actually came under their jurisdiction.
BMC commissioner Ajoy Mehta suspended two engineers of civic bridges department and asked three others to face departmental probe.
Firm that did audit claimed "new tiles hid" corrosion
The ill-fated bridge, which was demolished after the incident, underwent a structural audit in 2016 and the report was published by Mumbai's municipal corporation in September 2018.
The audit recommended "minor repairs" for the bridge. So, when the accident happened the entire process came under scrutiny.
DD Desai Associate Engineering Consultants, which conducted the audit, said BMC laid new tiles before the process.
Firm defended itself after audit was questioned
"There is a chance that because of the tiles and paint the corrosion in the structure was not detected. We tested the metal portion and the cement concrete portion too and marked the FOB as in need of minor repairs," said the firm's Neeraj Desai.
Earlier, BJP spokesperson blamed pedestrians for the incident
The totally avoidable accident also put BJP at receiving end of ire. Sanju Verma of the BJP blamed pedestrians for it and sparked outrage on Twitter.
During a TV debate, Verma said, "A large part of the blame, for want of a better word, was on the pedestrians who did not pay heed, knowing there was..."
Notably, she was cut off by the journalist.
Cornered after Verma's irresponsible comments, BJP did damage control
After being slammed, BJP rushed to do damage control. Madhav Bhandari, the party's chief spokesperson said, "Sanju Verma is not an authenticated BJP spokesperson. I am heading this cell in Maharashtra. She gave her personal opinion."
When did the bridge near CST collapse?
Asked 2019-03-16 18:29:00 by Sanvi Lobo
Answered by NewsBytes
The bridge near CST collapsed on Thursday, March 14.
Who is Sanju Verma?
Asked 2019-03-16 18:29:00 by Rajesh Jayaraman
Answered by NewsBytes
Sanju Verma is a spokesperson of BJP.
What did Sanju Verma say?
Asked 2019-03-16 18:29:00 by Ankita Tambe
Answered by NewsBytes
Sanju Verma blamed pedestrians for the fatal incident, in which six people died, and said they should have been careful.
What did Devendra Fadnavis do after the incident?
Asked 2019-03-16 18:29:00 by Ananya Kapoor
Answered by NewsBytes
Devendra Fadnavis ordered a high-level probe and set a deadline too.