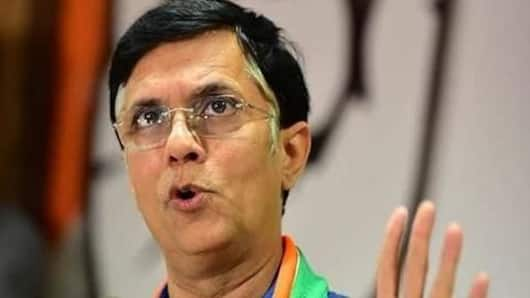 Pawan Khera likens Modi to Masood Azhar, Osama; sparks row
A massive row erupted after Congress' spokesperson Pawan Khera equated Prime Minister Narendra Modi to terrorists during a program on a news channel on Saturday.
Khera was embroiled in a war of words with BJP's Sambit Patra when he said "Modi" stood for Masood Azhar, Osama bin Laden, Dawood Ibrahim, and ISI.
Despite the huge uproar, Khera remained defiant.
Here's what went down.
Khera asked why PM Modi didn't answer important questions
During the debate on India TV, Khera mentioned that NSA Ajit Doval's son had business links with Pakistanis and asked BJP to come clean on this.
He then said that PM Modi had a habit of "hiding" behind terrorists and not answering questions.
Replying to Khera, Patra said despite the differences between their parties he shouldn't have spoken about the PM this way.
Love Politics news?
Stay updated with the latest happenings.
Yes, notify me
Khera's comments got him slammed from all corners
Union Defense Minister Nirmala Sitharaman was among the first ones to slam Khera over his comments. She tweeted: Shocking conduct by @INCIndia spokesperson. Demeaning & Disgraceful!
While BJP's tweet read, "Congress Spokesperson Pawan Khera says that MODI stands for Masood, Osama, Dawood, and ISI. Do we need enemies like Pakistan when we have Congress?"
Soon, other Twitter users joined the chorus.
PM's office should be treated with decorum
There's a certain decorum wt which you need to address the office of the Indian PM.
Regardless of your political/ personal differences wt who occupies the hallowed post

This is highly unbecoming of the congress

— atul kasbekar (@atulkasbekar) March 17, 2019
PM Modi leveled similar allegations on his predecessor, said Khera
When Khera was asked to comment on the uproar, he reminded of PM Modi's past actions.
He said PM Modi accused his predecessor Dr. Manmohan Singh of colluding with Pakistan to defeat him before Gujarat assembly elections.
"They keep insulting Congress' leaders from Jawaharlal Nehru to (Congress President) Rahul Gandhi. Why should I not be outraged," Khera told Times Now.
PM Modi hides behind issues: Khera
They keep abusing #Nehru. Modiji himself accused Dr Manmohan Singh and Gen Dipak Kapur of colluding with Pakistan to defeat him in Gujarat. If the unemployed youth or farmers ask tough questions to Modi, he hides behind these diversionary issues. https://t.co/jaSJofljAM

— Pawan Khera (@Pawankhera) March 17, 2019
The upcoming weeks will be eventful
With election season officially here, it won't be wrong to anticipate more such controversies and heated debates in coming days.
On Saturday, PM Modi kicked off the Main Bhi Chowkidar campaign to rebuke Congress' Chowkidar Chor Hai allegations.
A short while ago, PM Modi added the prefix Chowkidar to his Twitter name and several top BJP leaders, including Amit Shah, followed suit.
What did Pawan Khera say?
Asked 2019-03-17 15:24:11 by Paridhi Dasgupta
Answered by NewsBytes
Pawan Khera equated PM Modi to terrorists like Masood Azhar, Osama bin Laden, Dawood Ibrahim, and ISI during a TV debate on Saturday.
How did Sambit Patra react?
Asked 2019-03-17 15:24:11 by Shreya Mehta
Answered by NewsBytes
Sambit Patra asked Pawan Khera to apologize and said he should give due respect to the Prime Minister.
When will the results of general elections be declared?
Asked 2019-03-17 15:24:11 by Hansika Rao
Answered by NewsBytes
The results of general elections will be declared on May 23. The elections will be held in seven phases.
On which news channel did Pawan Khera make the controversial remarks?
Asked 2019-03-17 15:24:11 by Sai Jayaraman
Answered by NewsBytes
Pawan Khera made the controversial remarks during a program on India TV.