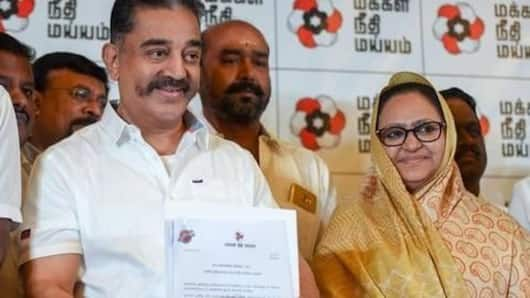 Kamal Haasan withdraws from poll-race, promises 50L jobs in manifesto
On Sunday, actor-turned-politician Kamal Haasan announced that he wouldn't contest upcoming Lok Sabha elections or Assembly polls in Tamil Nadu while stressing that all "candidates were his faces".
Haasan formed Makkal Needhi Maiam or MNM last year to focus on the problems of rural TN. The party is not tied up with any Dravidian parties, AIADMK and DMK.
The 64-year-old released his party manifesto.
Proud to be chariot puller, says Haasan
Haasan said he would tour all 18 assembly constituencies, where polls will be held simultaneously with general elections, to seek votes.
"All candidates are my faces. I am proud to be the chariot puller rather than the chariot itself," he said.
Interestingly, he had criticized Rajinikanth when he decided to not contest polls. He had said, "Why were you thumping (thighs)? Just for sound?"
Haasan fields lyricist Snehan opposite Karti Chidambaram and H Raja
Earlier this week, Haasan released the first list of 21 candidates for the upcoming polls.
On Sunday he released the second list. Former IAS officer Rangarajan was fielded from South Chennai. Lyricist Snehan will take on Congress's Karti Chidambaram and the BJP's H Raja in Sivaganga.
Apart from the candidates' list, he also released MNM's manifesto which featured numerous promises.
Love Politics news?
Stay updated with the latest happenings.
Yes, notify Me
Reservation for women, MSP for farmers: Haasan's tall promises
MNM's manifesto promised the creation of 50 lakh jobs and upliftment of 60 lakh below poverty level families.
The party also focused on women empowerment in the manifesto. Haasan said women will be given 50% reservation and equal pay in jobs.
He promised doorstep delivery of ration items, free or subsidized housing, and minimum support price to ensure "at least 100% profit for farmers."
Haasan wants governors to be elected by legislators
Apart from this, Haasan also announced free Wi-Fi, clean drinking water, no tolls on highways, and made a controversial promise that governors should be elected by legislators.
He added all winners would fulfill the promises.
"A single complaint against them will be inquired into by a committee and if found guilty, they will be immediately asked to tender their resignation," he said.
Haasan mentioned Pollachi sex abuse and demonetization in speech
Haasan sharply criticized CM E Palaniswami over the Pollachi sex abuse. "How can you take this so casually," he said. He asked DMK Chief MK Stalin why was he "afraid of actors".
He also mentioned the Tuticorin incident, where 13 agitators died, Jallikattu protests and called demonetization a high-handed decision.
Attacking Prime Minister Narendra Modi's "chowkidar" campaign, Haasan said he provided security to rich.
What is the name of Kamal Haasan's party?
Asked 2019-03-25 14:08:21 by Ayaan Mittal
Answered by NewsBytes
Kamal Haasan's party is called Makkal Needhi Maiam and it was formed in 2018.
Will Kamal Haasan contest polls?
Asked 2019-03-25 14:08:21 by Aaradhya Rodrigues
Answered by NewsBytes
No. Kamal Haasan said he won't contest polls but noted all candidates were his faces.
Where is Karti Chidambaram fighting polls from?
Asked 2019-03-25 14:08:21 by Angel Lobo
Answered by NewsBytes
Karti Chidambaram has been fielded from Sivaganga in Chennai.
What were the key promises made in MNM's manifesto?
Asked 2019-03-25 14:08:21 by Amit Singhal
Answered by NewsBytes
Kamal Haasan promised to create 50 lakh jobs, 50% women reservation, free WiFi, clean drinking water, and minimum support price for farmers.