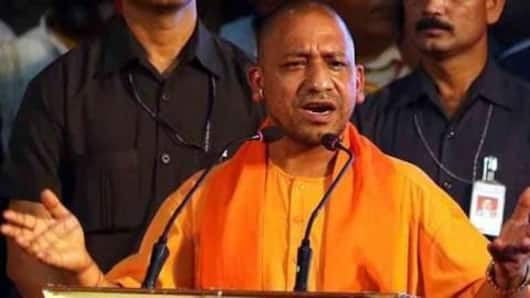 Modiji ki sena: EC lets off Adityanath with a warning
The Election Commission on Friday asked Uttar Pradesh Chief Minister Yogi Adityanath to be "careful" with his utterances in future, days after the BJP leader called Indian Army as "Modiji ki sena".
The top-polling body had issued a notice to Adityanath and asked him to reply by April 5.
Notably, Adityanath passed the comment when the Model Code of Conduct (MCC) was in force.
Backstory: Adityanath claimed Congress fed terrorists, Modi taught them lesson
While addressing an election rally in Ghaziabad, earlier this week, Adityanath spoke about the successes of Centre. He was seeking votes for Union Minister VK Singh.
He claimed Congress fed biryani to terrorists but "Modiji's Sena (Prime Minister Narendra Modi's Army) gives them only bullets and bombs".
The star-campaigner said Prime Minister Narendra Modi was breaking the spine of terrorists.
Commission isn't satisfied with Adityanath's clarification: EC
Adityanath's comment didn't sit well with Opposition parties including Congress and Trinamool. They approached EC to complain about the alleged violation of MCC.
Taking cognizance of the complaints, EC said, "The commission is not satisfied with Shri Yogi's clarification. Hence, Shri Yogi Adityanath is advised not to use matters related to the Army for political purposes and be cautious in the future."
Love Politics news?
Stay updated with the latest happenings.
Yes, notify me
Understanding the rule which Adityanath broke
To recall, the EC had on March 19 directed parties to not use Indian Army or their actions for their poll propaganda. Before that, the body had told parties they can't use pictures of armed forces for their campaign.
VK Singh didn't agree with Adityanath, retracted statement later
It's also important to note that VK Singh rebuked Adityanath's comments. Singh, in an interview, said those who say Indian Army belonged to one person aren't only wrong but "traitors".
However, when his statement got attention, Singh took a U-turn and claimed he was "misquoted". He said that the journalist may have "dozed off".
Subsequently, BBC released the uncut clip from the interview.
Watch: Singh downplayed EC's notice as well
#WATCH Union Minister General VK Singh on his reported remark on UP CM's 'Modi ke sena comment': Jo mujhe bolna tha bol chuka ab usko aur todo marodo mat. Yogi ji ne jo kaha hai aap logon ne usko bhi toda maroda hai. Election Commission toh 100 cheezon ke liye notice deta hai pic.twitter.com/WnCwIRwcVp

— ANI (@ANI) April 5, 2019
Separately, Rajiv Kumar was slammed by EC
Apart from Adityanath, EC also rebuked NITI Aayog Vice-Chairman Rajiv Kumar, who had criticized Congress' NYAY scheme.
Kumar had dismissed the announcement and said the party would do anything for votes.
"Public Servants should not only be impartial in their conduct but also in their public utterances, which was found wanting in the instant case," the body told Kumar, asking him to remain cautious.
When did Yogi Adityanath call Indian army 'Modiji ki Sena'?
Asked 2019-04-06 09:52:51 by Chirag Kapur
Answered by NewsBytes
Adityanath made the comments while campaigning for Union Minister VK Singh in Ghaziabad.
Did Adityanath violate MCC?
Asked 2019-04-06 09:52:51 by Trisha Tata
Answered by NewsBytes
Yes. The EC said it wasn't satisfied with Adityanath's explanation and asked him to remain careful.
When was MCC implemented?
Asked 2019-04-06 09:52:51 by Cheshta Jindal
Answered by NewsBytes
The MCC was implemented on March 10 when CEC Sunil Arora announced the poll dates.
Why was Rajiv Kumar slammed by EC?
Asked 2019-04-06 09:52:51 by Ayaan Mistry
Answered by NewsBytes
Rajiv Kumar was slammed as he dismissed Congress' NYAY scheme. The EC said public servants shouldn't take sides.