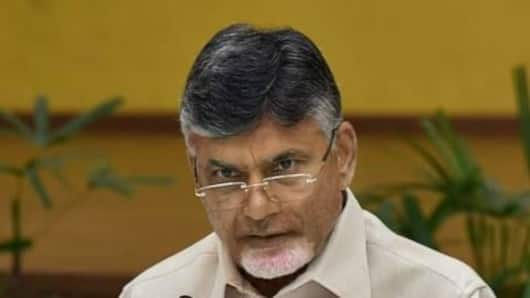 Chandrababu Naidu and Election Commission spar over EVMs: Details here
On Sunday, tensions between Andhra Pradesh CM Chandrababu Naidu and Election Commission peaked.
Naidu had written to the Commission regarding faulty EVMs, and the latter agreed to meet a delegation led by him.
But 'expert' whom Naidu brought along was involved in a criminal case regarding theft of an EVM machine. His presence miffed EC.
Subsequently, Naidu accused EC of diverting from the issue.
Naidu wanted re-polling in booths where EVMs didn't function properly
On Thursday, when the first phase of Lok Sabha polls and assembly elections were held simultaneously in Andhra, Naidu claimed 30-40% machines weren't working.
He demanded that re-polling should be done in the constituencies where voters returned.
Naidu threatened EC with a sit-in protest if he didn't get a positive response. On Saturday, EC agreed to meet his delegation.
EC is not cooperating with us: Naidu
"The Election Commission is an autonomous body. At the same time, they are working on instructions of (PM) Modi and the government of India. Election Commission is not cooperating with us," Naidu told media after the meeting.
Love Politics news?
Stay updated with the latest happenings.
Yes, notify me
Naidu's 'expert' allegedly stole EVM in 2010
To support his claim that 4,583 EVMs weren't working, Naidu brought an 'expert' with him. A quick background check revealed to EC that the expert was Hari Prasad, who was accused of stealing the machine in 2010.
Prasad has repeatedly claimed EVMs aren't foolproof. Subsequently, EC wrote a letter to Naidu asking him to explain why Prasad was given a seat on the table.
EC didn't find it "appropriate" to interact with Prasad
"This is completely intriguing as to how a so-called expert with these antecedents was allowed to be a part of the delegation being led by Chief Minister Chandrababu Naidu... It was not found appropriate to have any interaction with Hari Prasad," EC's letter read.
Naidu stood by Prasad, told EC about his achievements
Pointing at his arrest in 2010, EC said the outcome of the probe didn't matter and added "such antecedents do not inspire confidence". EC also attached proofs of Prasad's arrest.
Defending his presence, Naidu in his reply said Prasad was the first Indian to be awarded US-based Electronic Frontier Foundation Pioneer Award, nine years ago.
TDP asked EC to focus on problems.
Focus on issues raised by Prasad, TDP told EC
"Instead of focusing on the issue, the Commission is trying to avoid addressing the situation. (EC should) comprehend, clarify and resolve the issues raised by Hari Prasad Vemuru on our behalf," the reply read.
What are the allegations leveled by Chandrababu Naidu?
Asked 2019-04-14 16:25:13 by Ajay Rangarajan
Answered by NewsBytes
Chandrababu Naidu claimed 4,583 EVMs didn't work on Thursday, April 11, when Andhra Pradesh votes for assembly and Lok Sabha polls.
What did EC say on the allegations?
Asked 2019-04-14 16:25:13 by Ajay Malhotra
Answered by NewsBytes
EC agreed to meet a delegation of TDP to discuss the issues.
Who is Hari Prasad?
Asked 2019-04-14 16:25:13 by Rakesh Patel
Answered by NewsBytes
Hari Prasad was a part of TDP's delegation. In 2010, he was accused of stealing an EVM.
How did EC react on Hari Prasad's presence in the delegation?
Asked 2019-04-14 16:25:13 by Ankita Sarin
Answered by NewsBytes
EC reprimanded Naidu and said Prasad's presence didn't inspire confidence.