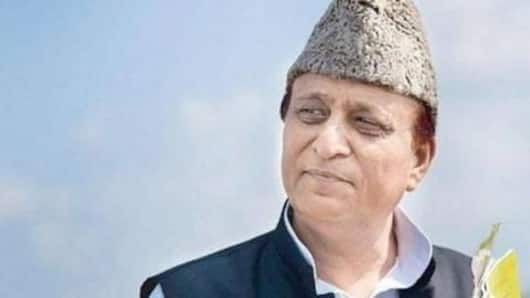 Azam Khan sparks row with 'underwear' comment against Jaya Prada
Senior Samajwadi Party leader Azam Khan on Sunday sparked a controversy after he allegedly made offensive remarks against actor-turned-politician Jaya Prada.
Khan went on a rant while addressing a rally in Rampur, the seat he is contesting from in the Lok Sabha polls.
In alleged reference to Jaya, Khan said he understood in 17 days that she wore "khaki underwear".
Here's all about it.
First off, let's understand the equation between Khan and Jaya
Rampur is all set to witness an interesting battle this time. Jaya, who recently joined BJP, fought from the constituency twice and won.
In 2004, Khan had campaigned for her but five years later their ties soured after Jaya sided with former SP stalwart Amar Singh during infighting.
This time, BJP sent Jaya to Rampur to battle her friend-turned-rival Khan.
Khan claimed BJP candidate leveled allegations on him
Boasting that he helped Jaya in Rampur, Khan said she sucked the blood out of the constituency for ten years.
He said the BJP candidate leveled many allegations against him and he had to swear on his dead mother to prove they were false.
"I want to ask you, should one stoop so low in politics," Khan asked, in presence of party president Akhilesh Yadav.
Love Politics news?
Stay updated with the latest happenings.
Yes, notify Me
Realized in 17 days that underwear was khaki colored: Khan
"But the difference between us, people of Rampur, people of Shahbad, people of India, is that you took 17 years to recognize the person, and I realized in just 17 days that the underwear the person wears is khaki," Khan said in the gathering.
Here is a clip of Khan's speech
#WATCH Azam Khan says in Rampur(in apparent reference to jaya prada), "Jisko hum ungli pakadkar Rampur laaye, aapne 10 saal jinse apna pratinidhitva karaya...Uski asliyat samajhne mein aapko 17 baras lage,main 17 din mein pehchan gaya ki inke niche ka underwear khaki rang ka hai" pic.twitter.com/JwIlcth4uQ

— ANI UP (@ANINewsUP) April 14, 2019
BJP spokesperson said Khan showed his real face
Since khaki is seen as the color of RSS, the parent body of BJP, Khan's comments were duly criticized.
BJP spokesperson Chandra Mohan said Khan's words were disgusting and political discourse couldn't fall further.
"This is the real face of Azam Khan and his so-called socialist party, wherein women are put down in this manner," he said and asked Mayawati to speak up.
NCW is poised to send show cause notice to Khan
Notably, the National Commission for Women also fumed at Khan's remarks. Chairperson of the body, Rekha Sharma, said a show cause notice will be sent to Khan.
Sharing a bit of the video, Sharma tweeted that Khan has always been disrespectful and abusive towards women.
She said the body will approach Election Commission to bar him from contesting polls.
Meanwhile, Khan offered to step back from elections
At the receiving end of ire, Khan defended himself by saying he didn't take any names in his speech.
Khan claimed he would sit out of the polls if it is proved that he took a name.
"I am disappointed. The media did not like me; I also did not like them. They have caused damage to the country," Khan said while blaming media.
I was referring to a man: Khan
Azam Khan, Samajwadi Party (SP): I was referring to a person in Delhi who is unwell, who had said, 'I came with 150 riflesI would have shot Azam if I had seen him.' Talking about him, I said, 'it took a long time to know ppl later it was found that he was wearing RSS shorts' https://t.co/BZXvKAQYRN

— ANI UP (@ANINewsUP) April 14, 2019
How many times has Jaya Prada won from Rampur?
Asked 2019-04-15 09:57:16 by Anika Yadav
Answered by NewsBytes
Jaya Prada won from Rampur in 2004 and 2008.
Why was Jaya Prada expelled from Samajwadi Party?
Asked 2019-04-15 09:57:16 by Devansh Gupta
Answered by NewsBytes
Jaya Prada was expelled from Samajwadi Party in 2010 for indulging in 'anti-party' activities.
Has any action been taken against Azam Khan for his demeaning remarks?
Asked 2019-04-15 09:57:16 by Aanya Banerjee
Answered by NewsBytes
National Commission for Women said a show cause notice will be sent to Azam Khan.
What did Azam Khan say in his defense?
Asked 2019-04-15 09:57:16 by Dhruv Sengupta
Answered by NewsBytes
Azam Khan said he was referring to a man and didn't take any names. He said he won't contest polls if proved guilty.