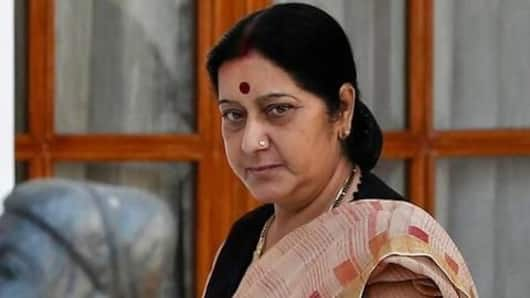 #AzamKhanRow: Draupadi being disrobed, says Swaraj; seeks Mulayam's response
On Monday, External Affairs Minister Sushma Swaraj equated Samajwadi Party patriarch Mulayam Singh Yadav to Mahabharata's character Bhishma Pitamah. She asked him to respond to the derogatory remarks of Azam Khan.
Khan sparked a row when he said "the underwear beneath is khaki" while allegedly referring to BJP's Rampur candidate Jaya Prada.
Notably, an FIR has been lodged against him.
Here's what went down.
Backstory: In Akhilesh's presence, Khan made problematic comment
Khan, who is grand alliance's candidate for Rampur, went on a rant while addressing a rally in the constituency.
In an apparent reference to his aide-turned-rival Jaya, Khan said it took him only 17 days to learn that "underwear the person wears is khaki". Khaki is usually used to refer to RSS, BJP's ideological mentor.
Notably, party president Akhilesh Yadav was present on stage.
Don't make the mistake of staying silent: Swaraj told Mulayam
As the row raged on, Swaraj drew Mulayam's attention to it.
The senior BJP leader tweeted, "Mulayam bhai, you are the patriarch of the Samajwadi Party. The Draupadi of Rampur is being disrobed in front of you. Don't make the mistake of staying silent like Bhishma."
Earlier, BJP spokesperson Chandra Mohan said Khan's real face was revealed for everyone to see.
Love Politics news?
Stay updated with the latest happenings.
Yes, notify me
Swaraj also tagged Akhilesh in her tweet
मुलायम भाई - आप पितामह हैं समाजवादी पार्टी के. आपके सामने रामपुर में द्रौपदी का चीर हरण हो रहा हैं. आप भीष्म की तरह मौन साधने की गलती मत करिये. @yadavakhilesh Smt.Jaya Bhaduri, Mrs.Dimple Yadav.pic.twitter.com/FNO5fM4Hkc

— Chowkidar Sushma Swaraj (@SushmaSwaraj) April 15, 2019
Meanwhile, UP police filed an FIR against Khan
Earlier on Monday, UP police registered an FIR against Khan. The case was filed under IPC Section 509 for outraging a woman's modesty.
However, Khan maintained that he was innocent. Putting the blame on media, he said he didn't take any names and was referring to a man.
The nine-time MLA from Rampur also said he won't contest Lok Sabha polls if proved guilty.
Separately, Jaya explained why Khan can't be allowed to win
Notably, Jaya shot back at Khan sharply. She said this isn't the first time such an incident occurred.
"You might remember that I was a candidate from his party in 2009 when no one supported me after he made comments against me...if this man wins, what will happen to democracy," she reportedly said.
She stressed she won't "get scared and leave Rampur".
On campaign trail, Jaya broke down remembering Khan's 'attacks'
It should be recalled that Jaya broke down at a public gathering in Rampur a few days ago.
After she filed her nomination as a BJP candidate, Jaya told the gathering that threats of acid attack forced her to flee Rampur.
The actor-turned-politician said this time she had the support of BJP and Prime Minister Narendra Modi, and won't bow down to pressure.
What did Azam Khan say?
Asked 2019-04-15 12:02:50 by Pari Rathore
Answered by NewsBytes
Allegedly referring to Jaya Prada, Azam Khan said it only took him 17 days to figure that the underwear the person wears in khaki.
Has any action been taken against Azam Khan?
Asked 2019-04-15 12:02:50 by Arnav Powar
Answered by NewsBytes
Yes. UP Police have filed an FIR under IPC section 509 (outraging woman's modesty) against Khan.
How did Jaya Prada react?
Asked 2019-04-15 12:02:50 by Cheshta Venkatesan
Answered by NewsBytes
Jaya Prada said this isn't the first time she has been targeted this way and said Azam Khan shouldn't be allowed to win.
Has SP said anything on the incident?
Asked 2019-04-15 12:02:50 by Surabhi Chavan
Answered by NewsBytes
No. SP didn't react to the incident immediately.