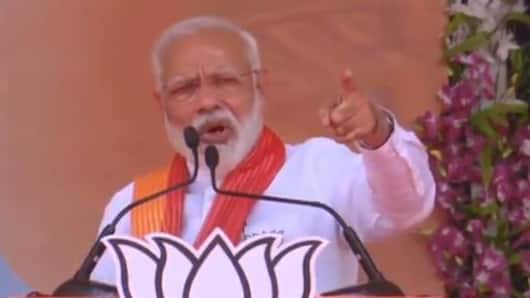 If Abhinandan hadn't returned, Pakistan would have faced consequences: Modi
Addressing a rally at Patan in his home state Gujarat on Sunday, Prime Minister Narendra Modi said he had warned Pakistan of consequences if they hadn't released Wing Commander Abhinandan Varthaman.
Asking people to vote for BJP in Lok Sabha polls, PM Modi told them that it was their 'duty' to take care of the 'son of the soil'.
Here's what happened.
Abhinandan achieved rare feat by killing F-16 using MiG-21 Bison
Abhinandan has a unique distinction to his name as he is the only pilot to have shot down the US made F-16 jet flying his MiG-21 Bison.
After killing advanced jet on February 27, Abhinandan went on another side of LoC and was captured by the Pakistani military.
A day later, Imran Khan announced his release as 'peace gesture'. Abhinandan returned home on March 1.
We warned Pakistan that nothing should happen to Abhinandan: Modi
Speaking on his release, PM Modi said, "We conducted a press conference and warned Pakistan that if anything happened to our pilot, you will keep telling the world that Modi did this to you."
He said national security is paramount for him and it doesn't depend on PM chair. PM Modi said he has decided either he would stay alive or terrorists.
Love Politics news?
Stay updated with the latest happenings.
Yes, notify Me
"American official said Modi kept 12 missiles ready"
"Senior American official said on the second day that Modi has kept ready 12 missiles and might attack and the situation will deteriorate. Pakistan announced to return the pilot on the second day, else it was going to be a qatal ki raat," he added.
Separately, PM Modi took a jibe at former 'mentor' Pawar
PM Modi also slammed NCP Chief Sharad Pawar, who said that he was "afraid" of the former's future steps.
"Sharad Pawar says I don't know what will Modi do. If he is unaware of what Modi will do tomorrow, how will Imran Khan know," he asked.
He said if BJP doesn't win all 26 seats in Gujarat, TV anchors will wonder why it happened.
Meanwhile, Abhinandan may get Vir Chakra soon
Meanwhile, reports claim that IAF plans to recommend Abhinandan for Vir Chakra, the third highest gallantry award in the military during the war, for his unachievable feat.
Notably, the names will not be announced until President inks the file.
He will also undergo crucial tests in the coming weeks, and by May end it will be known if he can fly again or not.
When was Abhinandan Varthaman captured by Pakistan?
Asked 2019-04-21 19:37:24 by Aradhya Sarin
Answered by NewsBytes
Pakistan captured Abhinandan Varthaman on February 27 after IAF and PAF jets were engaged in dogfight.
When did Abhinandan Varthaman return home?
Asked 2019-04-21 19:37:24 by Hemant Balasubramanium
Answered by NewsBytes
Abhinandan Varthaman returned to India on March 1. Pakistani Prime Minister Imran Khan announced his release as 'peace' gesture.
Which jet was Abhinandan Varthaman flying?
Asked 2019-04-21 19:37:24 by Vishal Gupta
Answered by NewsBytes
Abhinandan Varthaman was flying MiG-21 Bison when he brought down an F-16.
Who manufactures F-16?
Asked 2019-04-21 19:37:24 by Aradhya Chopra
Answered by NewsBytes
US-based company Lockheed Martin manufactures F-16.