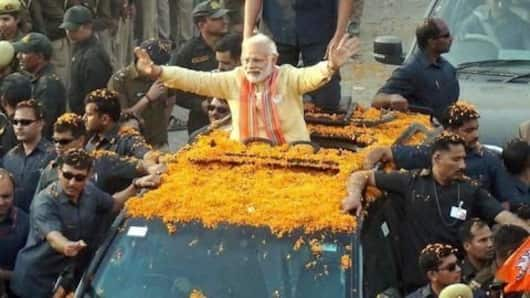 PM Modi heads to Varanasi, will file nomination on Friday
Prime Minister Narendra Modi will file his nomination from Varanasi Lok Sabha seat on Friday, April 26, but before that BJP has planned a mega show of strength.
He will embark on a roadshow soon after reaching Varanasi on Thursday afternoon.
On the other hand, ambiguity over Priyanka Gandhi Vadra's candidature from Varanasi still persists.
Let's take a sneak peek inside Varanasi.
In 2014, he said Ganga Maa called him
In 2014, when PM Modi selected Varanasi as his seat, he had said Ganga Maa (river Ganga) called him. He also contested from Vadodara, which he eventually gave up after winning both seats.
This time he is seeking re-election from the holy town, which has largely favored BJP.
Barring some resentment among citizens, PM Modi still remains a popular leader in the city.
PM Modi is expected to reach Varanasi by 2 PM
Keeping up with its penchant for over the top rallies, BJP planned a special one for PM Modi in Varanasi.
He is expected to reach Varanasi's Babatpur airport around 2 PM. He will then head towards Banaras Hindu University where he will start his 6-km long roadshow.
But before that, PM Modi will pay obeisance at Madan Mohan Malviya's statue in the campus.
Love Politics news?
Stay updated with the latest happenings.
Yes, notify Me
PM Modi will visit Dashashwamedh Ghat by evening
PM Modi's roadshow will end at Dashashwamedh Ghat, the holiest ghats of them all. He will also attend the evening aarti. Reports claimed he will also perform a grand puja.
After this, PM Modi will meet eminent personalities of the city.
On Friday, PM Modi will visit the famous Kaal Bhairav temple. Subsequently, he will address BJP workers and then file his nomination.
Allies, top BJP leaders will lend support to PM Modi
Union ministers Sushma Swaraj, Nitin Gadkari, Piyush Goyal, Nirmala Sitharaman, and BJP President Amit Shah will attend the event. Besides, CMs of BJP ruled states are also expected to mark a presence. Sena Chief Uddhav Thackeray and SAD's Parkash Singh Badal will also be seen.
The big question is- Will Priyanka challenge PM Modi?
Varanasi has been turned into a fortress for PM Modi's mega event. While the event has caught the attention of all, another big story doing rounds of lanes of Varanasi is Priyanka Gandhi Vadra's nomination.
The in-charge of Congress for UP East hinted she is ready for the biggest blockbuster battle of 2019 when she didn't rule out fighting from Varanasi.
Priyanka had said brother Rahul will take the final decision
Earlier this week, Priyanka said, "I will be happy to contest in Varanasi if my brother Rahul Gandhi (Congress president) insists."
Reports claimed Priyanka's mother and UPA chairperson Sonia Gandhi has doubts about sending her to Varanasi. Meanwhile, the SP-BSP-RLD alliance has fielded Shalini Yadav from Varanasi.
If Priyanka decides to make her electoral debut, will SP withdraw its candidate? Only time will tell.
When will PM Modi file his nomination from Varanasi?
Asked 2019-04-25 10:28:47 by Rajesh Pillai
Answered by NewsBytes
PM Modi will file his nomination on April 26, Friday.
Will Priyanka Gandhi contest elections?
Asked 2019-04-25 10:28:47 by Trishla Dutta
Answered by NewsBytes
There hasn't been any confirmation as of now. But Priyanka has said she is ready to fight polls if her party wants.
When will polls be held in Varanasi?
Asked 2019-04-25 10:28:47 by Reyansh Jayaraman
Answered by NewsBytes
Varanasi will poll in the last phase of elections- May 19.
When will results of Lok Sabha elections be declared?
Asked 2019-04-25 10:28:47 by Chirag Dutta
Answered by NewsBytes
Election results will be declared on May 23.